For those of you staying on Saracen Bay, the main tourist beach on Koh Rong Samloem, here are 5 food and drinks that you simply must try…
(See also: Attractions and Activities on Koh Rong Samloem)
1) Fish Amok – Sol Beach Resort
At number one is quite possibly the best Fish Amok that I have had in Cambodia, let alone the islands. It really is that special, and I have had a lot of Fish Amoks in my time (my Khmer wife agrees with me, and she too loves this classic Cambodian dish).
You can find it at the fantastic Sol Beach resort – Located near the centre of the bay. Even if you're not staying here, pop in and try it one night. They also have a fantastic selection of wines to accompany the meal, so you're in for a superb overall dining experience.
2) Pizza – Moonlight Resort
At number two is the outstanding pizza you can find at the very quirky Moonlight Resort, right next to Sol Beach above. Of all the pizza's I have ever had on Samloem, Moonlight's is by far the best – Thin crispy base, thick rich toppings, and a nice cheesy texture. What's more, Moonlight is the only place on Samloem that serves white wine at the perfect temperature, so it's worth a visit if only for that alone!
3) Cocktails – The One Resort
At number three are the cocktails at the much recommended The One resort. The One (next to Moonlight) is the only resort on Samloem with a swimming pool. At night times, the pool is lit up, and the background ocean scenery is splendid. Although the cocktails themselves probably won't blow you away, the mesmerising setting certainly will!
4) Crab & Papaya Salad – Saracen Bay Resort
At number 4 is the delicious Crab & Papaya salad at the fabulous Saracen Bay resort. Saracen bay resort is very close to the main pier (head left for 5 min as you get off the boat), and its restaurant is on a pier of its own. As such, you can enjoy your tasty meal overlooking the glorious sparkling ocean waters directly beneath.
Now, the Crab & Papaya salad I recommend here won't be to everyone's taste, but if you're open minded and want to try something different, this is definitely the dish for you!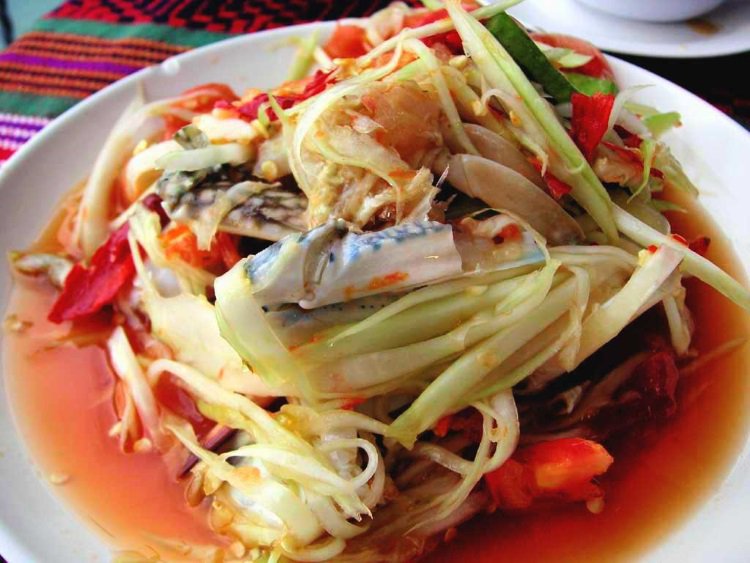 5) Beer – Waterfall (Freedom Island Resort)
If you're visiting Samloem either side of the rainy season, you should plan to see the wonderful waterfall on the far side of the island (head right as you get off the ferry – It's a part of Freedom Island resort). Beside the pool at the bottom of the waterfall is a little bar area, and there really is nothing better than relaxing in the refreshing jungle waters with a cold drink. Here I've chosen beer, but it's really up to you how you want to enjoy this phenomenal setting.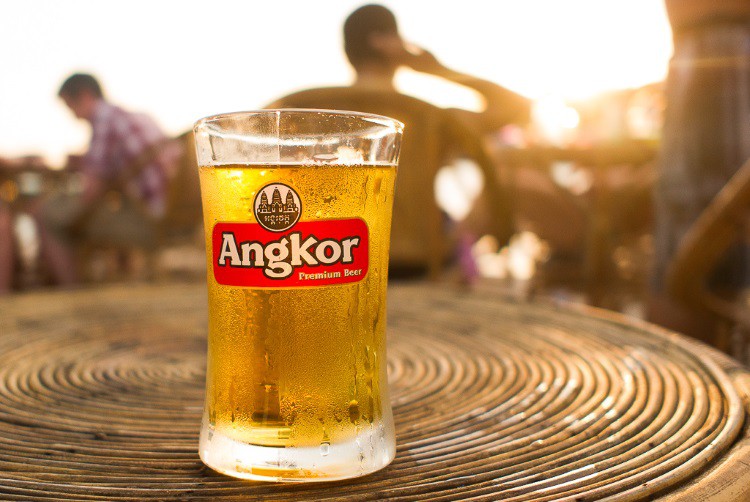 FAQs
Q: When is the best time to visit Saracen Bay?
A: The best time to visit Saracen Bay is between the middle of November and the start of May. During these months you'll have beautiful hot days with very little cloud and low humidity. To give you a rough idea of the average temperatures over this past year:

Middle of November / December / January / February: Warm and dry. 25°C daytime.
March / April / May: Hot and dry. 35°C daytime.
June / July / August: Hot and wet. 35°C daytime.
September / October / Early November: Warm and wet. 25°C daytime.

Please see our Weather Guide for more information.
Q: How do I get to Saracen Bay?
A: There are now 5 modern ferry services from Sihanoukville to Saracen Bay – Speed Ferry Cambodia, Island Speed Boat Cambodia, Buva Sea, Angkor Speed Ferry, and GTVC. (There are also a couple of $5-$10 'Slow Boat' services that take 1.5 – 2.5 hours – These services are not professionally run and are not recommended).

It will take about 40 minutes to get to Saracen Bay if it's the first stop. If the boat first stops elsewhere, it may take 1 hour or so.

All 5 services will charge roughly $25 return, though prices can vary depending on time of year, special offers, etc. All services leave from the Ochheuteal (AKA 'Serendipity') pier in Sihanoukville.

The 5 services offer modern speed boats with comfortable chairs, life jackets, and the option to buy food and drink on board. Not all of the ferries have air-conditioning, but once the boats set off there is a strong cool breeze throughout the sitting areas which more than makes up for it.

All ferry services tend to be very busy – we strongly recommend you buy your tickets in advance. You can buy your tickets online now here: Book Ferry Tickets Online Now
Q: What activities are there?
A: Snorkeling & Scuba Diving
The Koh Rong islands are known for their stunning underwater panorama. Whether it's snorkeling or scuba diving that you're after, there are plenty of superb locations on Koh Rong Samloem.

Kayaking & Paddle Boarding
Enjoy the crystal clear ocean waters by Kayaking or paddle boarding your way around – An ideal activity for couples and families alike.

Jungle Trekking
Explore the exotic jungle habitat by foot. If you're staying on Saracen Bay, we would definitely recommend for you to see Lazy Beach – A 40 minute walk through the jungle trail.

Bioluminescent Plankton
Sparkling like a starry sky all around you, the bioluminescent plankton are a wonderful sight to behold at night times. Please speak to your hotel about booking a plankton tour.
Q: Where can I see the glowing plankton?
A: Sparkling like a starry sky all around you, the bioluminescent plankton are a wonderful sight to behold at night times. Although this phenomenon is abundant on the islands, the glowing plankton can only be seen in places with very little light pollution.

If you're staying on Saracen Bay, the easiest way for you to see the plankton is by booking a boat tour.

For more information, please read: Glowing Plankton on Koh Rong
Q: What should I bring with me?
A: We recommend that you bring plenty of cash, mosquito spray, sun tan lotion, and any other necessities. Saracen Bay and M'Pai Bay have small shops where you can buy most of what you might need, but prices can be inflated so it's a good idea to stock up on the essentials before you go.
Q: Is it easy to get a Cambodian Visa?
A: Yes – it is generally very easy to get a Cambodian Visa. Although there are tighter restrictions for Business Visas (which now require a Cambodian work permit), the Tourist Visa (1 month stay) is very straight forward and can be obtained at the airport / border crossing as you arrive. If you'd like to skip the ques, you can buy your visa online now here: Buy a Visa Online Now.
Q: Is there an ATM on Saracen Bay?
A: There is currently no ATM on Saracen Bay. However, many resorts now take card (e.g. VISA, MasterCard, etc) and you can take money out using an Eftpos terminal (10% fee). It is also possible to do a WING transfer if you are desperate for cash. Please ask someone when you are there for details.

You can get cash out at any of the three Eftpos terminals on Koh Touch (the main tourist area on Koh Rong Island). There is an Eftpos terminal at Green Ocean Guesthouse, White Rose Guesthouse, and Koh Lanta.
Q: Is there a medical facility?
A: There is currently no medical facility on Saracen Bay. However, Koh Rong has a medical facility on Koh Touch (the main tourist area). Please ask someone when you are there for directions.
Q: Is it a family-friendly place?
A: Yes, there are many quiet, family-friendly places on Saracen Bay. Please see our Hotel Guide and Beach Guide to learn more.
Q: When is the rainy season?
A: The rainy season on Saracen Bay is from the middle of May to early November. During these months there will be short bursts of heavy rain during the day. One thing to note is that, although it is wonderfully hot throughout the peak season, there are several advantages of visiting the island during the rainy season.

For example, those that visit during the rainy season get to enjoy half-priced accommodation and beautiful rainy scenes, and because it never gets too cold in Cambodia, swimming in the ocean is still a very pleasurable experience (the water rarely drops beneath 25°C). Take a look at this article for more information: 5 Reasons to Visit Saracen Bay in Rainy Season