A lot of people have been asking us for advice on the best places for food and drink in Sihanoukville, so we thought we'd do a quick roundup of our favourite restaurants and bars.
There are of course the usual tourist hotspots like Monkey Republic and Big Easy, but here we are going to focus on the places that we think really stand out among the crowd.
1) Koh Por Food Shop – Khmer Cuisine
If you're looking for some exceptional Khmer food, then one of the best places in Sihanoukville is Koh Por Food Shop. You won't find it highlighted on any review sites, but it is extremely popular among the local (more affluent) Khmer due to the huge variety of dishes and the outstanding quality of food.
Choose from delicacies like shark, snails, or turtle, or try a more common dish like Loc Lac. Our personal favourite is 'Fried Fish Sour Sweet' – An incredible deep fried fish dish for only $3.50! If you struggle to decide what you'd like to try, ask one of the English-speaking waiters for recommendations when you're there. Be aware however that the service can sometimes be a bit slow due to the popularity of this restaurant.
Directions: Koh Por Food Shop is a 10 minute walk from the Golden Lions roundabout – If you're coming from Serendipity / Ochheuteal beach, cross over by the Golden Lions and follow that main road (Ekareach Street) past Lucky Ocean supermarket on your right hand side. When you reach the big bend in the road, Koh Por is right on that corner (you might see a lot of big buses or nice cars parked here).
2) Olive Olive – Italian Cuisine
If you're looking for some 'safe' comfort food during your stay, then the superb Italian food at Olive Olive is perfect.
Conveniently located at the corner of Ochheuteal Street and the Golden Lions roundabout, Olive Olive offers a simple but refined menu that includes pizzas, steaks, lamb shanks, and salads. Their selection of wines and overall presentation is superb, and the service is right up there with the best in Sihanoukville.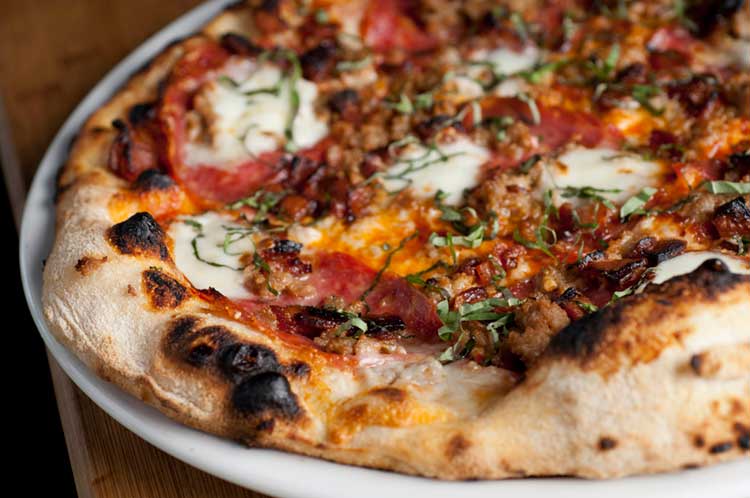 We recommend you try any of the $7 wood-fired pizzas – our favourites are the meaty one (Quadro Stagioni) and the vegetarian. The lamb shank and steaks are also cooked to perfection – the latter in particular is incredibly hard to find in Sihanoukville.
Worthy of mention here also is Marco Polo around the corner from Olive Olive. If you prefer a greater choice of toppings for your pizza, then this is the place for you. The pizzas here are cheesy and topping heavy, but all of the really nice toppings come at a price, so although it is very close between the two, we still think Olive Olive just about comes out on top.
3) Queenco Hotel (Independence Beach) – Cocktails
A little-known gem of Sihanoukville is Queenco Hotel on Independence Beach. What's particularly fantastic is their bar located directly on the beach, and what's particularly impressive about this bar is the phenomenal sunsets and happy hour cocktails that go perfectly hand in hand.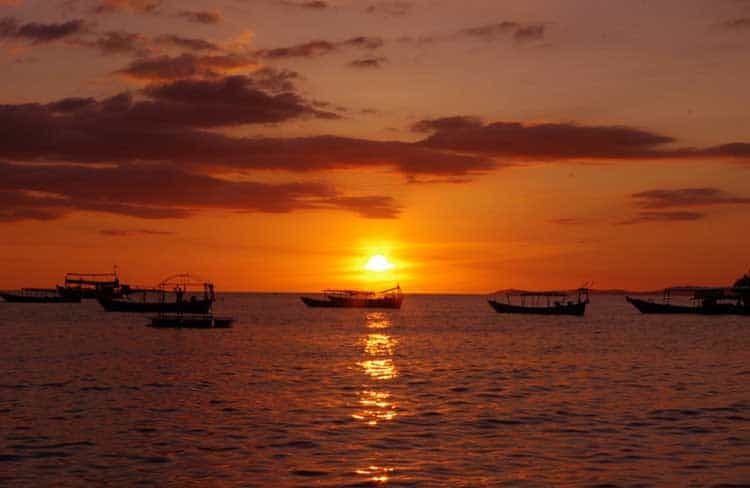 Queenco itself is striving to become one of the leading hotels in Sihanoukville, with a focus on personal service, luxury facilities (a gym and a swimming pool), and a more affluent cliental (at the moment only western expats and Chinese tourists come here).
The happy hour is from 4pm – 7pm, during which time you can choose from their wide variety of professional cocktails at a 2-for-1 discount rate (equalling $2 per cocktail). The sun starts to come down at around 6pm and the views are absolutely spectacular – from purple to orange to red brightly lit skies. There really is nothing better than relaxing in a deck chair overlooking the sunset with a cocktail in your hand!
The swimming pool is right next to the bar, and the pool table here is one of the best in Sihanoukville, so you won't run out of things to do. And despite it becoming a more popular attraction in recent years, it is still usually pretty quiet (especially if you sit away from the main swimming pool area).
Directions: The easiest way to get to Queenco is to ask a Tuk Tuk driver to take you there (make sure you emphasise 'Independence Beach' as there is also a Queenco at Otres). On average a Tuk Tuk will cost about $4 from the Golden Lions and take 15 minutes.
4) Sandan – Khmer & Western Fusion
If you'd like to try some local Khmer food but you prefer something on the safe side, then Sandan is a great option. The restaurant specialises in Khmer & Western fusion dishes, so, in a nutshell, it tries to soften and subtly bring out the flavours of classic recipes (as well as adding their own touches here and there).
The atmosphere in the restaurant is very calm and peaceful, and the focus is on providing a high level of service. This is reflected in the price – An average dish costs $7 and a glass of wine around $5.
Perhaps what stands out the most about Sandan is the philosophy behind it – Their model is based on helping homeless children by training them to work in their chain of restaurants. The children excellently serving you throughout your meal were once orphans not too long ago.
Directions: If you're coming from Occhuteal beach towards the Golden Lions, just as you reach the lions head left around the corner – Sandan is a 3 minute walk on your left hand side.
5) Taj Mahal – Indian Food
It might seem a bit strange to recommend an Indian restaurant in the middle of Sihanoukville, but believe it or not the Taj Mahal is outstanding.
Run by a couple of very friendly Indian expats, the restaurant offers a great selection of traditionally cooked Indian dishes.
The focus may not be on presentation or refinement, but the quality of the food is right up there with the best. Our favourite is the Saag Paneer (cooked Bangladeshi style) – It's not on the menu, but if you're a fan of spinach and cheese this dish is a little treat.
Directions: Taj Mahal has recently moved and is now near GBT guesthouse on Ochheuteal road.