There is currently no official list of all Cambodian islands, so we have collected and compared various sources (maps in particular) to try and make a start, for anyone who is interested in such geographical / historical matters.

Lonely Beach on Koh Rong
So far, we have identified roughly 64 Cambodian islands. These 64 islands fall under the administration of 4 coastal provinces. Some islands have two or more names, and there are several islands with the same name.
There are two systems for romanizing the Khmer language: The Applied IPA – International Phonetic Alphabet (e.g. Koh = island); and the UNGEGN – United Nations Group of Experts on Geographical Names (e.g. Kaôh = island).
A few small islands (and some sizeable rocks) underwent naming/renaming during the time of the French Protectorate (e.g. Ilot Veer = Veer Islet or Rocher Kusrovie = Kusrovie Rock). Some islands used to have French names which are not used anymore, although a few seem to have been 'Khmerized' – e.g. Ile de Kok Sralou became Koh Sralau. There are also some inconsistencies to be aware of – e.g. Ile de Cone is casually applied to Koh Goun and to Koh Rong Sanloem, while Ile du Milieu exists at least twice.
Note: Koh Tral (or Trol) (Vietnamese: Phu Quoc) and Koh Panjang (Vietnamese: Thochu Island) actually belong to Cambodia – some administrative mistakes in the 1930s resulted in the current classification.
Islands of Koh Kong Province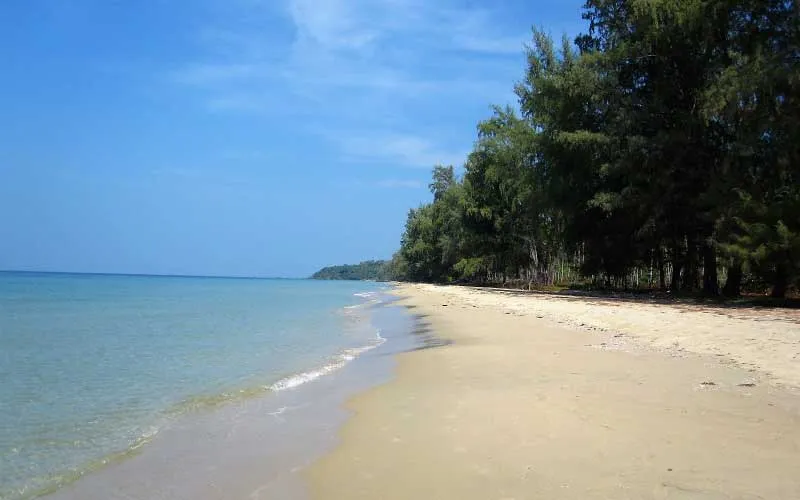 A Beach on Koh Yar
Koh Kong (Island) – Outer Koh Kong Island កោះកុងក្រៅ 105 km2
Koh Sdach – King Island កោះស្ដេច 1.1 km2
Koh Memei/Rokas – Widow island កោះមេម៉ាយ
Koh Smach/Samit – Rife Island កោះស្មាច់ 3.4 km2
Koh Smach Phoumi – Rife Island Village កោះស្មាច់ 0.8 km2
Koh Ampil Thom – Big Tamarind Island កោះអំពិលធំ 34.4 ha
Koh Ampil Kandal – Central Tamarind Island កោះអំពិលកណ្ដាល 2.6 ha
Koh Ampil Toch – Small Tamarind Island កោះអំពិលតូច 11.2 ha
Koh Moul – Round Island កោះមុល 18.6 ha
Koh Kapi – "From the" Island កោះកាពី
Koh Gondol – Mouse/Rat Island កោះកណ្ដុរ 2.4 ha
Koh Sralau Sralau – Tree Island កោះស្រឡៅ Ile de Koh Sralou 4.2 km2
Koh Châkrei – Chakrei Island កោះចក្រី 2.9 km2
Koh Domloung – Potato Island កោះដំឡូង Ile Plate 6.5 ha
Koh Manoah/Kandal – Pineapple/Middle Island កោះម្នាស់/កណ្តាល Ile du Milieu 3.9 km2
Koh Lôy – Pretty Island កោះឡូយ 13.5 ha
Koh Navan – Navan Island 6.9 km2
Koh Ta Téam – Ancestor Team Island កោះតាទាម Ile du Chenal 0.6 km2
Koh Yâr – Porch Island កោះយ៉ 1.0 km2
Koh Kruasah Knong – Inner Family Island កោះគ្រួសារក្នុង Îles Koh Kussat 16.0 ha
Koh Kruasah Krau – Outer Family Island កោះគ្រួសារក្រៅ Îles Koh Kussat 12.5 ha
Koh Kruasah Kandal – Central Family Island កោះគ្រួសារកណ្ដាល Îles Koh Kussat 25.5 ha
Koh Andaug – Turtle Island កោះអណ្ដើក 6.4 ha
Koh Khmauch – Ghost Island កោះខ្មោច 10.9 ha
Koh Nu – That Island កោះនោះ
Rocher Table – Table Rock
Rocher Kusrovie – Kusrovie Rock
Rocher Du Branle-bas – Commotion Rock
Ilots de la comete – Comet Islets
Koh Chhan – Table Island កោះឆាន់ 0.5 km2
Koh Totang – Square Island កោះទទឹង 0.8 km2
Koh Rokas/Memas – Irregular Island កោះរកាស 1.3 ha
Koh Pao – Kiddy Island កោះ 18.0 ha
Koh Sanchaura កោះ 29.7 ha
Islands of Sihanoukville Province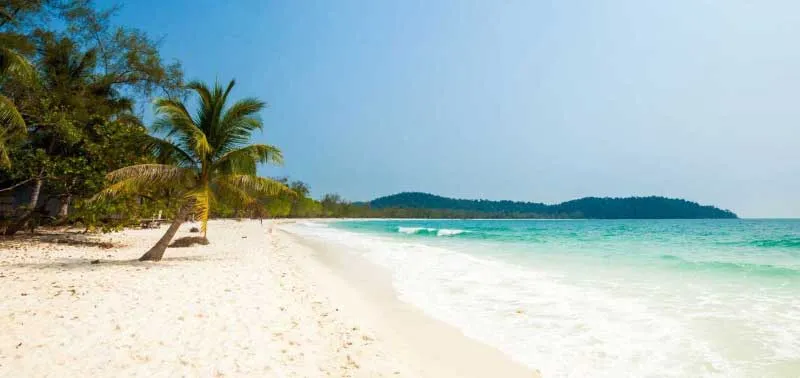 A Beach on Koh Rong
Koh Rong – Rong Island កោះរ៉ុង 78 km2
Koh Tuich – Small Island កោះតូច Ilot Sud 1.4 ha
Koh Rong Sanloem – Rong Sanloem Island កោះរុងសន្លឹម 25 km2
Koh Koun – Child Island កោះកូន Ile de Cone 6.9 ha
Koh Bong Po-oun/Song Saa – Siblings/Lovers Islands កោះបងកោះប្អូន Les Frères 6.1 ha
Koh Chanloh/Kaoh Preus – Torch/Deer Island កោះចន្លុះ/កោះប្រើស 1.9 ha
Koh Puos – Snake Island កោះពស់ Île Coudée 1.1 km2
Koh Dek Koul (Pae) – (Port) Nail Island កោះដែកគោល Rocher Carré 0.5 km2
Koh Russei – Bamboo Island កោះឫស្សី Ile Sud-Ouest 1.4 km2
Koh Ta Kiev – Ancestor Kiev Island កោះតាគៀវ Ile de la Baie 6.7 km2
Koh Kaong Kang/Tass – Mangrove/Disk Island កោះកោងកាង/ថាស Ile des Paletuviers 0.9 km2
Koh Traolach – Melon Island ត្រឡាច
Koh Tres/K'teah – Pan Island កោះខ្ទះ Ile Ronde 7.5 ha
Koh Krabei Water – Buffalo Island កោះក្របី … …
Koh Preab – Dove Island កោះព្រាប Île du Départ 1.0 ha
Koh Doung – Coconut Island កោះដូង 1.9 ha
Rocher Eiffel 0.1 ha
Islands of Kampot Province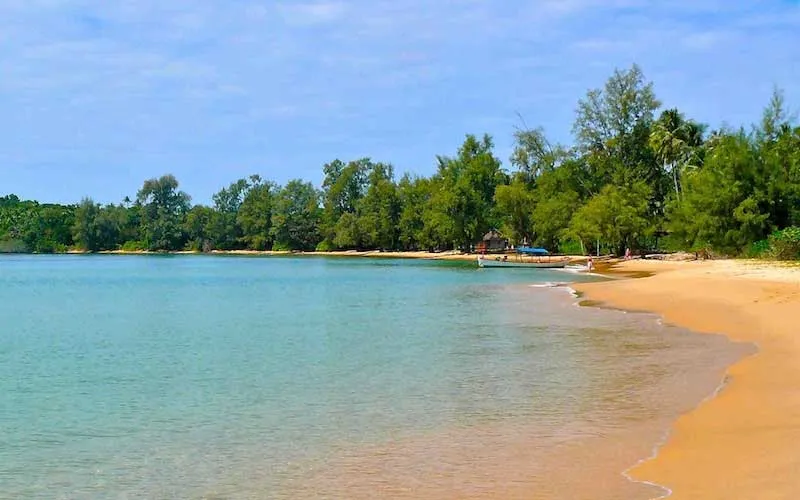 A Beach on Koh Thmei
Koh Thmei – New Island កោះថ្មី Ile du Milieu 40.3 km2
Koh Seh – Horse Island កោះសេះ Ile a L'eau 7.7 km2
Koh Ky Island កោះគី 2.2 ha
Koh Sramauch – Ant Island កោះស្រម៉ោច 28.6 ha
Koh Sampoch – Meerkat/Ferret Island កោះសំពោច 0.5 ha
Koh Dam – Graft island 1.1 km2
Islands of Kep Province

Koh Thonsay – Rabbit Island
Koh Angkrang – Weaver Ant Island កោះអង្ក្រង Ile des Fourmis 6.1 ha
Koh Sen – Sen Island 8.3 ha
Koh Pou – Pou Tree Island កោះពោធិ Île Pirate du Nord 32.2 ha
Koh Kras – Dense Island កោះក្រាស Île Rocheuse 2.9 ha
Koh Matei – Kindergarten Island កោះមត្តេយ្យ
Koh Makprang – Makprang Fruit Island កោះម៉ាកប្រាង
Koh Sngout – Dry Island កោះស្ងួត
Koh Kok – Heron/Egret Island កោះកុក
Koh Svay – Mango Island កោះស្វាយ 6.3 ha
Koh Tbal Mill – Grinder/Mortar Island កោះត្បាល់ 14.7 ha
Koh Thonsay – Rabbit Island កោះទន្សាយ Koh Antay 1.8 km2
Roche Rosita – Rosita Rock
The Outer Islands (Administered by Koh Kong Province and Sihanoukville Province)
Koh Tang – "Legend" or Display Island កោះតាង 5.9 km2
Koh Moul/Tuich – Round/Small Island កោះមូល 1.9 ha
Koh Domloung – Potato Island កោះដំឡូង 46.7 ha
Koh Trangol – Shaved Island កោះត្រង៉ោល 1.0 ha
Koh Thee Moy – First Island កោះទីមួយ Îlots Sud-Est 2.0 ha
Koh Thee Pee – Second Island កោះទីបីរ Îlots Sud-Est 5.4 ha
Koh Doung – Coconut Island កោះដូង 8.3 ha
Koh Pring – Jambul Island កោះព្រីង ile Prins 0.7 km2
Koh Poulo Wai 1 – Poulo Wai Islands កោះពូលូវៃ 2.1 km2
Cambodia's southern-most point at 9°54′N 102°53′E)
Koh Poulo Wai 2 – Poulo Wai Islands កោះពូលូវៃ 1.7 km2
Ilot Veer Koh – Veal Field Island កោះវាល 6.2 ha