Cambodia is home to some of the world's most impressive ancient temples. Built between the 9th and 15th centuries, these architectural marvels showcase the incredible skill and artistry of the ancient Khmer people. Dotted throughout the jungles and countryside, Cambodia's temples are windows into the past, allowing visitors to glimpse the religious customs and complex political systems of the Khmer Empire at its peak.
In this blog post, we'll explore 11 of the most magnificent and historic temples in Cambodia. From the grand Angkor Wat to remote jungle ruins like Koh Ker, each temple offers a unique experience and insight into Cambodia's ancient civilizations. Read on to learn about the history, architecture, and significance of Cambodia's incredible temples.
1: Angkor Wat Temple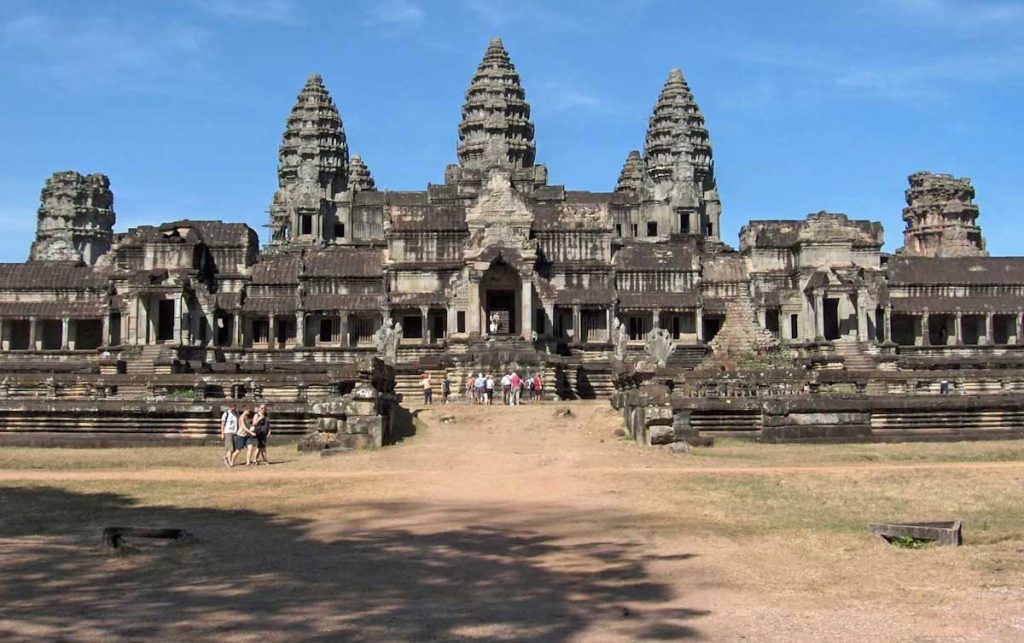 The crowning jewel of Cambodian architecture is Angkor Wat, the largest religious monument in the world. Built in the early 12th century by King Suryavarman II, this UNESCO World Heritage site encompasses over 200 acres. The temple's most recognizable feature is its quincunx of towers, symbolic of the peaks of Mount Meru, the cosmic mountain at the center of the Hindu universe.
Surrounded by a 650 foot-wide moat, Angkor Wat contains extensive bas-reliefs depicting Hindu mythology and Khmer history. The inner temple originally housed statues of the god Vishnu, to whom the temple was dedicated. Today, Angkor Wat remains an active Buddhist temple and Cambodia's most iconic landmark.
Location: Angkor Archaeological Park, Siem Reap
2: Bayon Temple
At the heart of the ancient city of Angkor Thom sits the Bayon, a state temple commissioned by Buddhist King Jayavarman VII in the late 12th century. The Bayon is renowned for the over 200 massive stone faces adorning its towers, each portraying the Bodhisattva Avalokiteshvara and symbolizing divine compassion.
The faces of the Bayon gaze out in all four cardinal directions, their enigmatic expressions hinting at the rich symbolism underlying the temple's design. In addition to the faces, the Bayon's bas-reliefs chronicle epic historic battles and religious ceremonies of the Khmer Empire. Despite some erosion, the Bayon remains a stunning testament to the grandeur of Angkor's temples.
Location: Angkor Thom, Siem Reap
3: Banteay Srei Temple
Nicknamed the "Citadel of Women," Banteay Srei is one of Cambodia's most ornately decorated temples. Built in the 10th century, Banteay Srei's pink sandstone walls are densely carved with elaborate bas-reliefs depicting scenes from Hindu mythology.
Despite its small size, Banteay Srei showcases the fine craftsmanship of Khmer artisans through delicate decorations and lifelike facial expressions carved into the temple's devatas (female divinities). This level of intricate ornamentation is unique among Cambodia's temples and makes Banteay Srei a cannot-miss destination.
Location: Angkor Archaeological Park, Siem Reap
4: Preah Khan Temple
Preah Khan ("Sacred Sword") is a 12th century temple dedicated to Hindu deities and an important center of Buddhist learning under Jayavarman VII. Originally a home to over 5,000 teachers, Preah Khan's design incorporates Hindu symbolism combined with Buddhist sensibilities.
A sprawling complex of corridors, pavilions, and towers, Preah Khan showcases beautiful carved lintels, Buddhas, and garudas throughout its structures. Its central tower contains four impressive Bayon-style faces looking out to the cardinal directions. Preah Khan provides unique insight into Cambodia's religious syncretism and diversity.
Location: Angkor Archaeological Park, Siem Reap
5: Pre Rup Temple
Believed to be the state temple of King Rajendravarman II, Pre Rup was constructed in the 10th century as a Hindu temple dedicated to Shiva. Pre Rup means "turning the body" in Khmer, referring to funeral rituals. The temple consists of three tiers of brick towers ascending a pyramid-shaped mountain symbolizing Mount Meru.
Beautiful carved lintels depicting Hindu myths decorate Pre Rup's towers and false doorways. The temple also offers panoramic views of the countryside from its upper platform. At dawn and dusk, the brick sanctuaries of Pre Rup glow a mesmerizing orange, presenting photographers with unforgettable scenery.
Location: Angkor Archaeological Park, Siem Reap
6: Beng Mealea Temple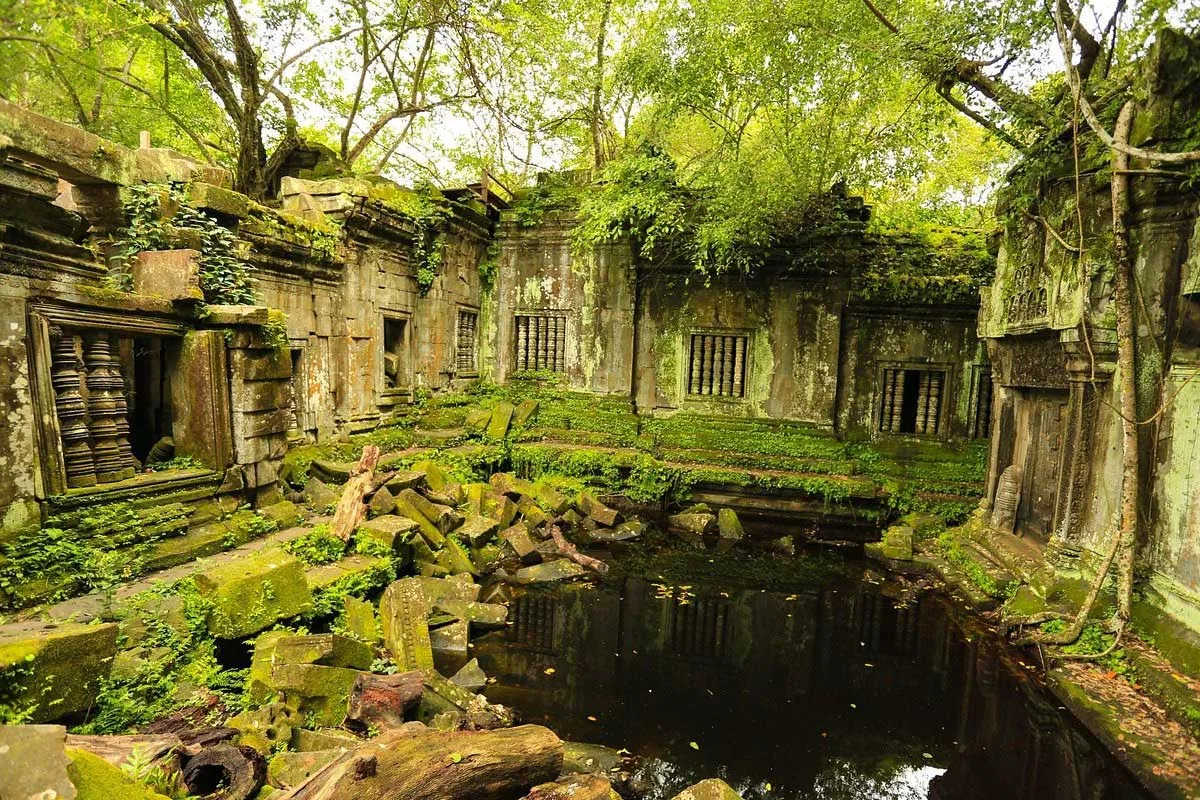 Deep in the Cambodian jungle sits Beng Mealea, an overgrown 12th century temple that offers an adventurous, Indiana Jones-esque experience. Largely unrestored, Beng Mealea is a maze of crumbling tunnels, galleries and towers intertwined with soaring kapok trees and winding vines.
Navigating the ruined temples and clambering through tight passageways makes visiting Beng Mealea feel like genuine archaeological exploration. While very deteriorated, Beng Mealea's sprawling layout and intricate stonework provide an enthralling look at how nature reclaims human creations.
Location: Around 60 km northeast of Siem Reap
7: Koh Ker Temple
Koh Ker was briefly the capital of the Khmer Empire under King Jayavarman IV in the 10th century CE. The Koh Ker temple complex includes an impressive seven-tiered pyramid, Prasat Thom, and multiple structures spread out amidst the forest.
Koh Ker's buildings exhibit unique architectural styles not seen elsewhere in the empire, including enormous vaulted ceilings and trapezoidal doorways. Koh Ker is also renowned for its collection of massive, intricately carved stone sculptures, including a waterspout in the form of a garuda.
Location: 120 km northeast of Siem Reap
8: Ta Prohm Temple
Ta Prohm is a 12th century Mahayana Buddhist temple enveloped by jungle. Intentionally left largely unrestored, Ta Prohm's ancient stone towers and halls have been overtaken by the roots and trunks of sprawling fig and silk-cotton trees.
The merging of man-made and natural worlds creates a haunted, romantic atmosphere as spectacular tree roots drape over crumbling walls covered in lichen and moss. Wandering through the mystical ruins of Ta Prohm is like walking through a traditional Cambodian folk tale come to life.
Location: Angkor Archaeological Park, Siem Reap
9: Preah Vihear Temple
The mountain-top temple of Preah Vihear sits dramatically on a 1,722 foot cliff on the Dângrêk Mountains overlooking Cambodia's northern plains. Dedicated to Shiva, the temple was constructed between the 9th-12th centuries and includes a series of sanctuaries ascending the mountainside via stairs and walkways.
Preah Vihear's position provides breathtaking vistas across northern Cambodia. The white stone buildings blend intricately with the mountainscape, exemplifying the Khmer genius for integrating architecture and landscape. Inscribed motifs also help trace Preah Vihear's intriguing construction history.
Location: Preah Vihear Province, northern Cambodia
10: Banteay Samré Temple
Just east of Angkor Wat, Banteay Samré is a mid 12th century Hindu temple commissioned by King Suryavarman II. The temple's interior buildings feature ornate sandstone carvings showcasing scenes from Hindu epics the Ramayana and Mahabharata.
Banteay Samré's overall design resembles a smaller version of Angkor Wat, with a central tower surrounded by four smaller towers and an encircling moat. Samré means "samar tree" in Khmer – the trees growing around the temple giving it its name. Banteay Samré entrances visitors with its excellent state of preservation.
Location: Siem Reap
11: Phimeanakas Temple
Resting within the walls of the Royal Palace of Angkor Thom, Phimeanakas ("Celestial Palace") was built in the 10th century CE as a Hindu temple pyramid dedicated primarily to Shiva. Later, it became associated with the legendary king's palace gardens.
Phimeanakas is notable for blending Hindu and Buddhist architectural motifs, including classic kala decorations and Buddhist lotus flowers carved into its sandstone facade. Though in somewhat poor condition, Phimeanakas remains a key part of Angkor Thom's royal complex.
Location: Angkor Thom, Siem Reap
Summary: Exploring the Temples of Cambodia
Cambodia's ancient temples offer far more than just picturesque backdrops. They provide an immersion into the history, culture, and beliefs of past Khmer civilization. Wandering through the hallowed halls of Angkor Wat or climbing amongst the tangled ruins of Ta Prohm connects us viscerally to the passion, skill, and spiritual life of the people who created them centuries ago.
Beyond just tourism, Cambodia's temples are sites of active religious worship, with Buddhist monks, Hindu devotees, and everyday pilgrims flocking to many of the sites year-round. The continued spiritual significance of these places makes them treasured local icons as much as UNESCO wonders.
Visiting Cambodia's temples takes effort – whether trekking deep into the jungle or braving the summertime heat. But the rewards are ample. Gazing upon the carved cosmic imagery of Angkor or watching the sunlight play across the Bayon's many-eyed faces are experiences that stay with you forever. Through their beauty and legacy, Cambodia's temples offer timeless inspiration.