If you're staying on Koh Touch, the main tourist area on Koh Rong Island, then we would definitely recommend you try a private fishing trip – In our opinion, it is one of the best things to do on Koh Touch, if you have a spare morning or so and don't get sea sick easily that is.
Now, even if you don't happen to be a natural expert with the traditional Khmer bottle and wire apparatus, do not fear, your captain will catch many fish for you (perhaps offer a $3 prize for the biggest fish). In fact, it's likely he'll be pulling one out of the water every minute or so while you'll struggle to catch 2-3 per hour!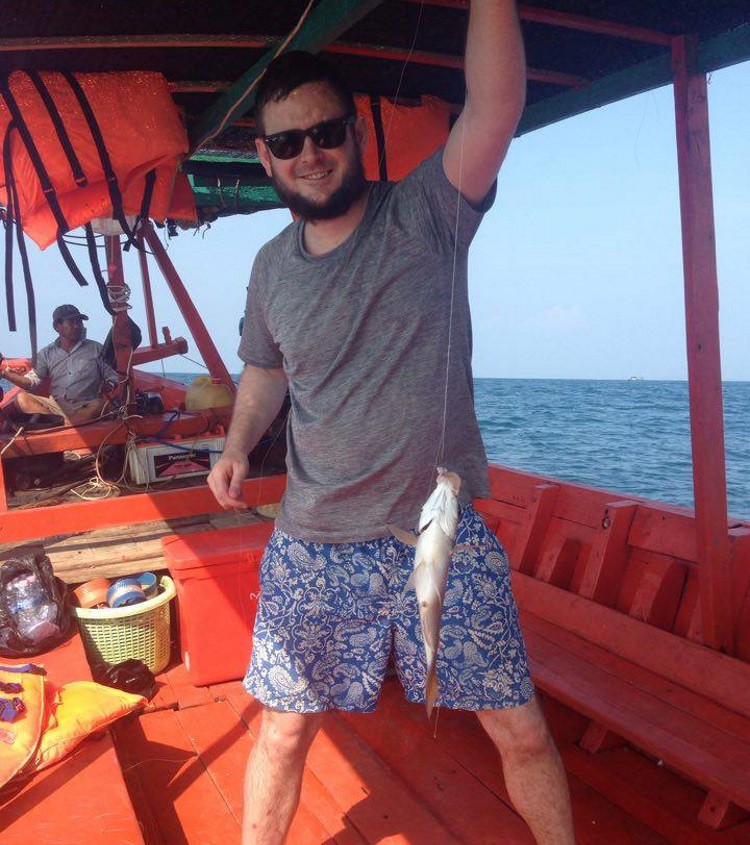 The total cost for a trip should be $20-$30, but it might go up to $40+ if you have a very big group with you. This will also depend on how long you want to go for, and how far out you would like to go.
For example, there are a few amazing islands around Koh Rong, which are ideal for snorkelling and fishing. On one of our very first fishing trips we went to Pineapple Island – A small deserted island to the north of Koh Rong. It was truly spectacular there – A real island paradise with no one around.
The snorkelling was a great experience, with much exotic wildlife right at your fingertips. We caught many fish that day, of all shapes, colours, and sizes, and spent a couple of hours relaxing on the beautiful untouched beaches.
Apparently, Koh Rong is home to one of the largest freshwater fish on Earth, the Mekong catfish, which can gown upwards of 650 pounds.
The Mekong Catfish on Koh Rong
Because we set off early that day (maybe 10am), we were back in good time and had the rest of the evening and night time on Koh Touch. All in all, a great day out, which we would recommend to all (the trip cost us $80 in total but we went around the whole of Koh Rong and stopped off at a couple different landmarks).
FAQs
Q: How big is Koh Rong?
A: Koh Rong (also romanized as Kaôh Rong or Kos Rong) is the second largest island of Cambodia, having an area of approximately 78 km². 43km of the island's 61km coastline are beaches (there are over 23 individual beaches that vary in length and colour, some of which have now been developed for tourism – Read our Beach Guide to learn more).

There are four village communities on the island: Koh Touch (south-east), Prek Svay (north-east), Daem Thkov (Sangkat village) (east), and Sok San (west). Most locals live from fishing (70%) and small scale crop cultivation (30%). As of 2019, tourist businesses outnumber residential homes on Koh Touch.

The terrain is predominantly hilly, with a 316m mountain (1,037ft) in the north-west. Most of the island's interior is covered in jungle forestry, with several waterfalls, bays, capes, and sandstone rock formations adding to the wonderful scenery.

Exposed to the weather and open sea, the south side of Koh Rong is particularly beautiful, while the east side is characterized by smooth hills that gently slope towards the crescent-shaped beaches, inlets, and bays.
Q: Where exactly is it?
A: Koh Rong Island is located in the Gulf of Thailand, about 25km (16mi) off the coast of Sihanoukville. It is based in commune (Sangkat) No. 5, or Sangkat Koh Rong of the Mittakpheap district in Sihanoukville Province (see map).

Koh Rong's neighbouring islands include Koh Tuich in the south-east, the twin islands of Koh Bong-Po'own (Koh Song-Saa) in the north-east, and Koh Koun and Koh Rong Samloem in the south. These five islands make up the Sangkat Koh Rong (or Commune 5 of Mittakpheap District).

Q: How do I get to Koh Rong?
A: There are now 5 modern ferry services from Sihanoukville to Koh Rong Island – Speed Ferry Cambodia, Island Speed Boat Cambodia, Buva Sea, Angkor Speed Ferry, and GTVC. (There are also a couple of $5-$10 'Slow Boat' services that take 1.5 – 2.5 hours – These services are not professionally run and are not recommended).

It will take about 40 minutes to get to your destination if it's the first stop. If the boat first stops elsewhere, it may take 1 hour or so.

All 5 services will charge roughly $25 return, though prices can vary depending on time of year, special offers, etc. All services leave from the Ochheuteal (AKA 'Serendipity') pier in Sihanoukville and go to the main tourist beaches on the islands. If your hotel is not on the main beaches (Koh Touch / Saracen Bay), please read Sihanoukville to Koh Rong.

The 5 services offer modern speed boats with comfortable chairs, life jackets, and the option to buy food and drink on board. Not all of the ferries have air-conditioning, but once the boats set off there is a strong cool breeze throughout the sitting areas which more than makes up for it.

All ferry services tend to be very busy – we strongly recommend you buy your tickets in advance. You can buy your tickets online now here: Book Ferry Tickets Online Now
Q: When is the best time to visit?
A: The best time to visit Koh Rong Island is between the middle of November and the start of May. During these months you'll have beautiful hot days with very little cloud and low humidity. To give you a rough idea of the average temperatures over this past year:

Middle of November / December / January / February: Warm and dry. 25°C daytime.
March / April / May: Hot and dry. 35°C daytime.
June / July / August: Hot and wet. 35°C daytime.
September / October / Early November: Warm and wet. 25°C daytime.

Please see our Weather Guide for more information.
Q: Is Koh Rong a party place?
A: Please ignore what you might read elsewhere – Koh Rong is NOT just a party place! Yes, the main tourist area, Koh Touch, has a reputation for being quite lively, but there are MANY other areas that are peaceful, relaxing, and truly mesmerising. Even on Koh Touch itself there are beautiful, quiet areas a little further down the beach. Please read our Hotel Guide and Beach Guide for more information.
Q: Where is Koh Rong Samloem?
A: Koh Rong Samloem (also romanized as Kaoh Rong Sanloem) is located in the Gulf of Thailand, about 25km (16mi) off the coast of Sihanoukville and 4km (2mi) south of Koh Rong Island.

Koh Rong Samloem is Koh Rong's stunning sister island – a short 20 minute ferry trip away. It is a peaceful relaxing destination with breathtaking scenery – Pristine white beaches, clear turquoise ocean waters, and a tropical jungle wilderness.
Q: Where can I see the glowing plankton?
A: Sparkling like a starry sky all around you, the bioluminescent plankton are a wonderful sight to behold at night times. Although this phenomenon is abundant on the islands, the glowing plankton can only be seen in places with very little light pollution.

As such, if you're staying on Koh Touch (the main tourist area on Koh Rong) or on Saracen Bay (the main tourist area on Koh Rong Samloem), the easiest way for you to see the plankton is by booking a boat tour (you can also walk to Police Beach on non-party nights (15 minutes left from the main pier) and Tree House Bungalows (15 minutes right from the main pier) on Koh Touch, or make your way to Long Set Beach around the corner from Koh Touch).

For more information, please read: Glowing Plankton on Koh Rong
Q: Where are the best beaches?
A: There are many wonderful beaches on Koh Rong. To give you an idea, here are three beaches that we like (please read our Beach Guide to learn more):

1) Lonely Beach – Possibly the best beach on the islands (even bettering Lazy Beach on Koh Rong Samloem), is Lonely Beach to the northern side of Koh Rong Island. Although it is not in the most convenient location, it really is absolutely stunning. The small alcove feels like a real island-paradise, with crystal clear ocean waters, soft white sandy beaches, and tall palm trees all around. The atmosphere is quite serene – so peaceful and quiet with just a few crickets chirping in the background. There are very few people around, so you feel quite isolated and secluded out in a truly beautiful setting.

2) 4K Beach (Long Set Beach) – We would say that 4K beach is number two on the list, though there are now several resorts built along this wonderful stretch of white sand, sparkling turquoise ocean, and tropical jungle wilderness. What's great about this beach, apart from the stunning scenery and inviting pristine waters, is that it's a short walk away from the main tourist area on Koh Rong Island (Koh Touch).

3) White Beach – At number 3 we are going to put White Beach – A 10 minute walk from the main pier on Koh Touch. Admittedly, there are probably better beaches, but the convenience of White Beach and the quality of the resorts around this area push it up a place or two. Despite what you might read elsewhere, this far side of Koh Touch is not a party location and does not suffer from the same setbacks that other more popular areas experience. The beach on this part of the touristy stretch is clean and well-kept, with soft white sands and beautiful clear ocean waters.
Q: What should I bring with me?
A: We recommend that you bring plenty of cash, mosquito spray, sun tan lotion, and any other necessities. Both islands have small shops where you can buy most of what you might need, but prices can be inflated so it's a good idea to stock up on the essentials before you go.
Q: Is it easy to get a Cambodian Visa?
A: Yes – it is generally very easy to get a Cambodian Visa. Although there are tighter restrictions for Business Visas (which now require a Cambodian work permit), the Tourist Visa (1 month stay) is very straight forward and can be obtained at the airport / border crossing as you arrive. If you'd like to skip the ques, you can buy your visa online now here: Buy a Visa Online Now.
Q: Is there an ATM on the islands?
A: Although there is no ATM as such, you can still get cash out at any of the three Eftpos terminals on Koh Touch (the main tourist area on Koh Rong Island). There is an Eftpos terminal at Green Ocean Guesthouse, White Rose Guesthouse, and Koh Lanta.
Q: What activities are there?
A: Snorkeling & Scuba Diving
The islands are known for their stunning underwater panorama. Whether it's snorkeling or scuba diving that you're after, there are plenty of superb locations.

Kayaking & Paddle Boarding
Enjoy the crystal clear ocean waters by Kayaking or paddle boarding your way around – An ideal activity for couples and families alike.

Mountain Biking & Jungle Trekking
Explore the exotic jungle habitat by foot or via a mountain bike.

Bioluminescent Plankton
Sparkling like a starry sky all around you, the bioluminescent plankton are a wonderful sight to behold at night times.

Jet Skiing & Windsurfing
For some fast paced action on the beautiful clear waters, hire Jetskis or Windsurf.

To learn more, please read our Activities Guide.
Q: Is there a medical facility on Koh Rong?
A: There is a medical facility on Koh Touch (the main tourist area on Koh Rong Island). Please ask someone when you are there for directions.
Q: Is it a family-friendly place?
A: Yes, there are many quiet, family-friendly places on the islands. Please see our Hotel Guide and Beach Guide to learn more.
Q: When is the rainy season?
A: The rainy season on Koh Rong Island is from the middle of May to early November. During these months there will be short bursts of heavy rain during the day. One thing to note is that, although it is wonderfully hot throughout the peak season, there are several advantages of visiting the islands during the rainy season.

For example, those that visit during the rainy season get to enjoy half-priced accommodation and beautiful rainy scenes, and because it never gets too cold in Cambodia, swimming in the ocean is still a very pleasurable experience (the water rarely drops beneath 25°C). Take a look at this article for more information: 5 Reasons to Visit Koh Rong Island in Rainy Season
Q: Where was Survivor Kaoh Rong filmed?
A: Koh Rong Cambodia has hosted the popular reality programme 'Survivor' several times.

In 2012, a special edition of the French Survivor ('Koh Lanta') was filmed near Sok San Village with an All-Star cast. The production team returned in 2013 and again in 2016 to film the regular editions.

In 2015, the American version of Survivor produced Season 31 (Survivor: Cambodia – Second Chance) and season 32 (Survivor: Kaoh Rong – Brains vs Brawn vs Beauty) on Koh Rong Island.

The 16th edition of Expedition Robinson (Sweden's Survivor) was also filmed on the island.