Nestled in the sacred mountains of Cambodia, Phnom Kulen National Park is a place of legend, myth, and natural wonder. Known as Mahendraparvata in ancient times, Kulen Mountain was the birthplace of the Khmer Empire and home to the imperial capital more than 1200 years ago. Today, Kulen has been reclaimed by the Cambodian jungle, its ancient temples and cities hidden beneath a blanket of emerald green forest. For travelers seeking adventure, spiritual awakening, and communion with nature, Phnom Kulen is a mystical paradise waiting to be explored.
A Sacred Mountain Revered for Centuries
Rising approximately 487 meters above the Cambodian plains, Kulen Mountain holds special significance for the people of Southeast Asia. In 802 CE, King Jayavarman II performed a sacred ritual upon its summit, proclaiming independence from the Javanese empire and establishing Cambodia as a sovereign nation. Over the ensuing centuries, Kulen became a place of spiritual pilgrimage, with Hindus, Buddhists, and animists alike making the journey to experience its purifying waters and commune with the gods.
The mountain takes its name from the abundance of wild lychee or "kulen" trees which once covered its slopes. To this day it remains cloaked in thick jungle, a precious refuge for native wildlife. Elephants, leopards, bears, and monkeys roam its hidden trails, while colorful birds sing amid its ancient ruins.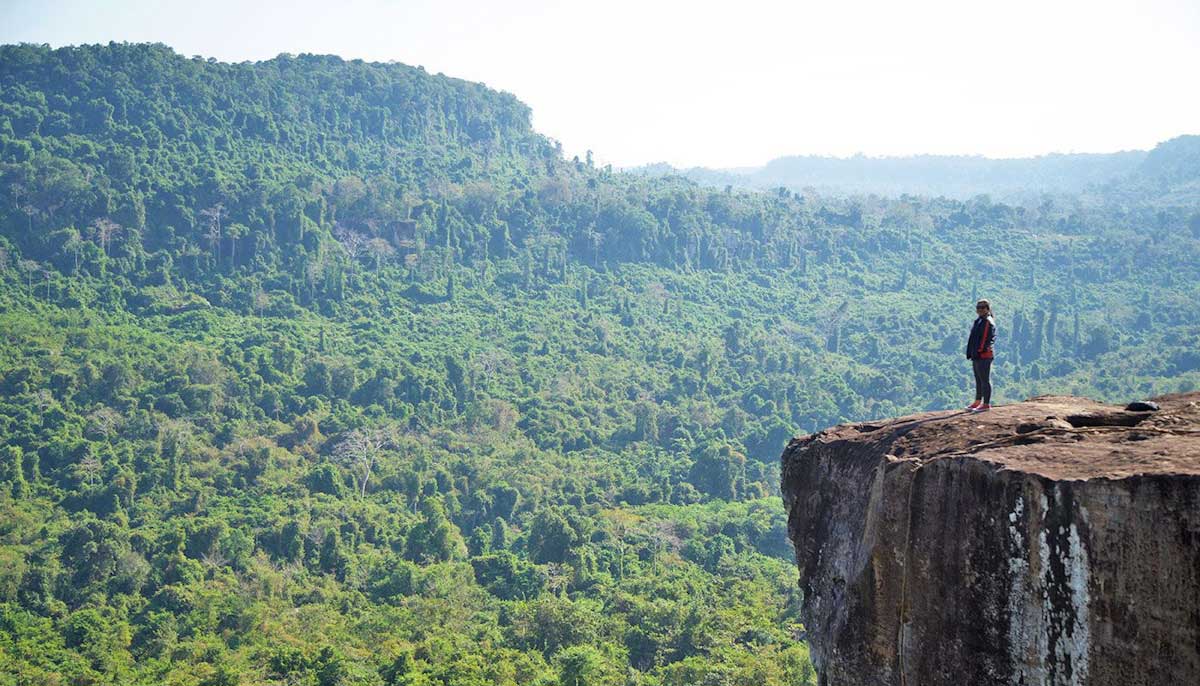 Exploring Phnom Kulen's Natural Wonders
For outdoor enthusiasts, Kulen Mountain offers plenty of opportunities to experience Cambodia's stunning natural beauty. The park covers 37,873 hectares of protected land, much of it blanketed in lush primary rainforest. Several hiking trails wind through the jungle, leading past tumbling waterfalls, hidden caves, and scenic viewpoints overlooking the countryside below.
One of Kulen's most popular natural attractions is the waterfall and swimming hole near the mountain's summit. During the wet season, the churning waters cascade powerfully into a large pool perfect for taking a refreshing dip. Visitors often spend hours picnicking and relaxing on the smooth boulders surrounding the falls.
A short walk downstream leads to the Thousand Lingas carvings at Kbal Spean. Here the Stung Kbal Spean River flows over a series of stone sculptures depicting lingams, phallic representations of the Hindu god Shiva. The waters are thought to be imbued with mystical fertility powers, and pilgrims bathe among the submerged lingams as a blessing.
Exploring the Lost City of Mahendraparvata
In 2012, archaeologists made an incredible discovery beneath the jungle canopy on Phnom Kulen's plateau. Using airborne laser scanning technology called LIDAR, they revealed an ancient cityscape sprawling across the mountain top: Cambodia's lost first capital, Mahendraparvata.
Founded in the early 9th century CE, Mahendraparvata was a massive urban center laid out on a grid of highways and canals. At its height it was comparable in size to modern Phnom Penh, with temples, palaces, markets, and homes occupied by tens of thousands of people. In the centuries since its abandonment, the jungle completely swallowed Mahendraparvata, hiding it from view and preserving its ruins in pristine condition beneath the undergrowth.
Today visitors can get a glimpse into the lost city by visiting temple sites like the pyramidal Prasat O'Paong, which likely served as a shrine for mountain pilgrims. Guides can also lead hikers to recently discovered artifacts scattered in the forest, like 8th century lingams and pieces of ancient sandstone architecture. It's thrilling to stand amid the vines and imagine the thriving metropolis that once existed here.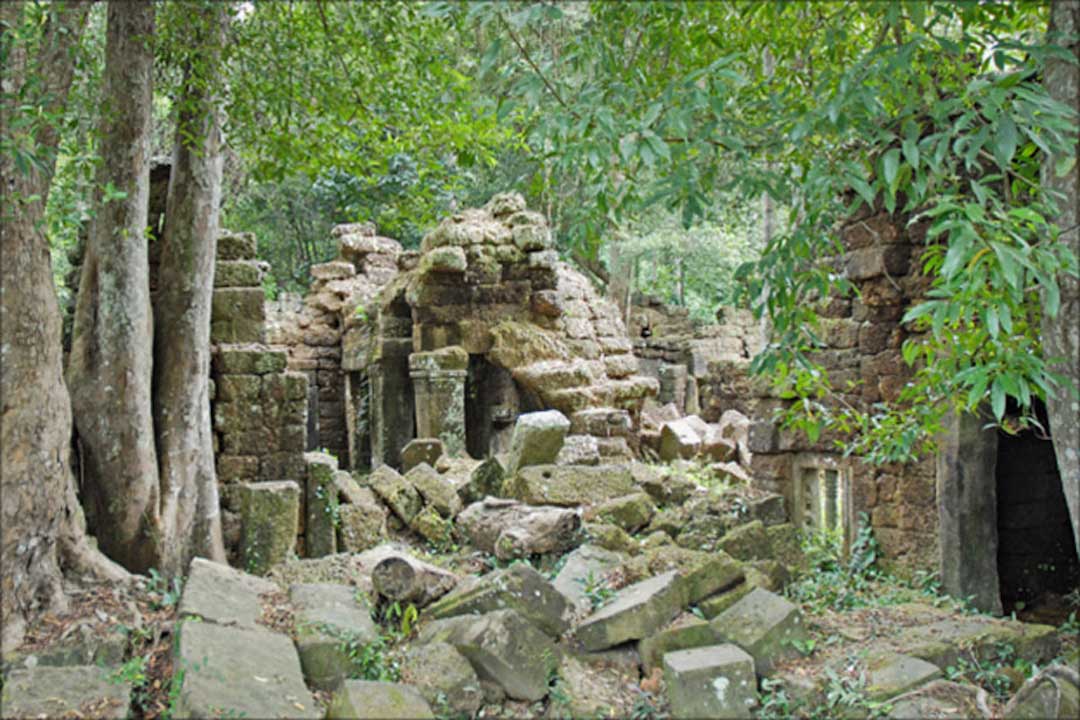 Spiritual Enlightenment at the Sacred Temples
In addition to its natural splendors, Phnom Kulen is home to numerous temple sites of spiritual significance. The sacred nature of the mountain has drawn people here for contemplation and worship for more than a thousand years.
The largest and most prominent temple is Preah Ang Thom, constructed in the 12th century during the reign of King Suryavarman II. Inside sits an enormous reclining Buddha, measuring 15 meters from head to toe. Atmospheric halls and passages contain hundreds of Buddha statues standing in rows, while colorful murals decorate the walls.
Another intriguing site is Damrei Krap, or "Elephant Pond," marked by stone sculptures of elephants and other animals now worn smooth by time and the elements. The area also holds a pleasant pond fed by a natural spring. Visitors can contemplate the symbolic carvings while enjoying the serenity of this secluded forest glade.
Those seeking to connect with the divine feminine energy of the universe can visit Srah Damrei, an ancient shrine dedicated to Bhagavati, a benevolent female divinity. Local legend tells of a princess who sacrificed herself here to save the Khmer people, and a spirit house has been built to honor her memory.
Essential Tips for Visiting Phnom Kulen
Phnom Kulen National Park is open daily from 7 AM to 5 PM. Admission is $20 per person for non-Cambodian visitors, payable at the ticket booth near the base of the mountain.
Private cars, vans, and 4×4 trucks can traverse the winding road to the top of Kulen Mountain. Alternatively, physically fit travelers can trek up the mountain on foot for a more immersive experience. Give yourself at least four hours if ascending by foot.
Pack insect repellent, sturdy shoes, sun protection, and plenty of drinking water. Drop your gear at the parking area before setting out to explore the mountaintop sites.
Swimwear like shorts and t-shirts are recommended for enjoying the waterfalls while showing respect at the sacred sites. Remove shoes before entering temples and dress conservatively.
For the full Kulen experience, book a guided tour combining sightseeing by vehicle with enlightening commentary, hiking, and a delicious jungle picnic. Well-reviewed options are available through tour companies in Siem Reap.
Summary: Discovering the Magic of the Sacred Mountain Kingdom
A trip to Phnom Kulen National Park offers the chance to touch the mystical heart of the ancient Khmer Empire. As you explore its lost cities cloaked in jungle, contemplate its ancient temples, and immerse yourself in its sacred waters, you'll feel transported back through the centuries to an era of magic and myth. With an open mind and a sense of childlike wonder, you're sure to be awakened to the profound spiritual energy that imbues this holy mountain. Let Kulen's magic draw you into its leafy embrace!