About Koh Rong Samloem
Located just off the coast of Sihanoukville, Cambodia, Koh Rong Samloem is Koh Rong's stunning sister island. It is a peaceful relaxing destination with breathtaking scenery – Pristine white beaches, clear turquoise ocean waters, and a tropical jungle wilderness. A real 'island paradise' – As it is often called by tourists. Here's all the information on Koh Rong Samloem's beaches, tourism, history, geography, and villages.
(See also: About Koh Rong)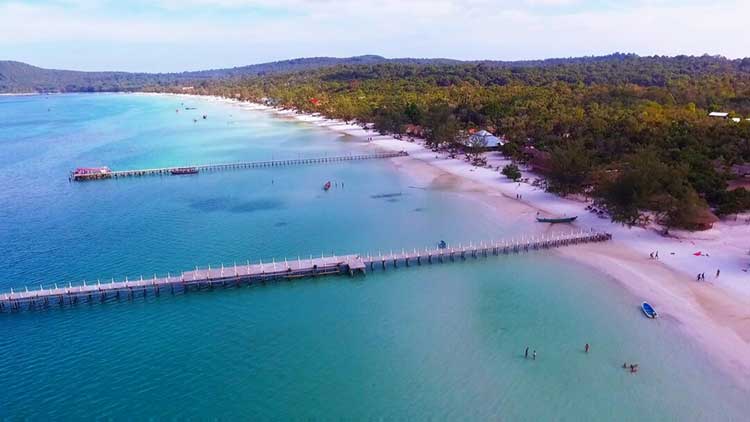 Aerial View of Saracen Bay on Koh Rong Samloem
Tourism on Koh Rong Samloem
There are many spectacular tourist locations on Koh Rong Samloem. The main tourist beach, Saracen Bay, creates a quiet lad-back atmosphere with several resorts along its front. Experience a little bit of culture at M'Pai Bay, or isolate yourself with a Robinson Crusoe style experience at Lazy Beach and Sunset Beach. To learn about all the different areas on Koh Rong Samloem, read our Koh Rong Beach Guide. For a better idea about Saracen Bay, take a look at this video:
Most people visit Koh Rong Samloem between the middle of November and the start of May, as during these months there are beautiful hot days (25°C – 40°C) with very little cloud and low humidity. Learn about the weather on Koh Rong Samloem here: Koh Rong Weather.
As of 2019, there are now 5 modern ferry services from Sihanoukville to Koh Rong Samloem. The 5 services offer modern speed boats with comfortable chairs, life jackets, and the option to buy food and drink on board. Learn more: Sihanoukville to Koh Rong.
Whether you want to lie back, unwind, and admire the magnificent views, swim in the warm refreshing ocean, explore the exotic wildlife, or learn the historic Khmer culture, the mesmerising island of Samloem is your perfect destination.
Explore Samloem Hotels
Villages on Koh Rong Samloem
There are two local villages on Koh Rong Samloem: M'Pai Bay (in the north) and Koh Rong Sanloem Phumi Kang Khnong (in the south). There is also a small hamlet in the south-west (called Phumi Kang Krau, which translate to 'Village on the outside'). Most locals live from fishing (70%) and small scale crop cultivation (30%).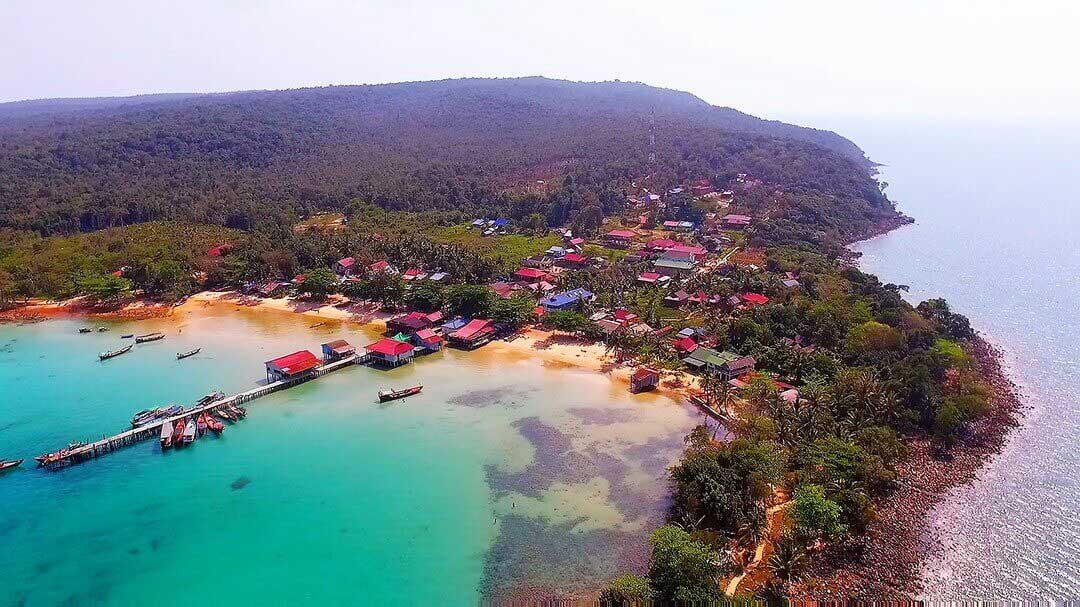 Aerial View of M'Pai Bay on Koh Rong Samloem

There used to be a very basic road network on the island which was built during the French Protectorate. Now however, the roads are barely visible and have been overgrown with vegetation. A reminder of this era is a light house in the south. This has been turned into a small tourist attraction and can be reached by foot via a 1 hour jungle walk.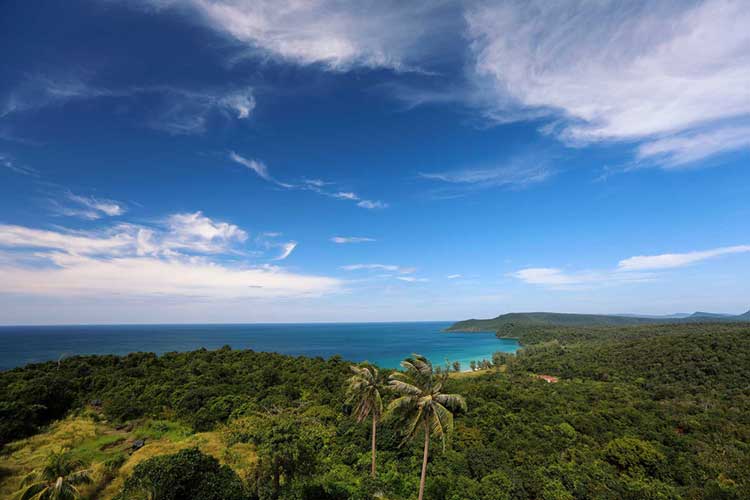 View from the Light House on Koh Rong Samloem
Wildlife on Koh Rong Samloem
There is a lot of spectacular wildlife on Koh Rong Samloem, including one group of monkeys that can sometimes be spotted during the Jungle Trail walk, and dazzling wild birds like the great hornbill, the kingfisher and the osprey.

Wild Hornbill on Koh Rong Samloem
Small reefs and the rocky surfaces of the sea waters are home to a fantastic variety of marine species. Divers and snorkelers regularly emphasize the abundance of delicate miniature eco-systems, seahorses, and nudibranches (see: Snorkelling on Lazy Beach, Koh Rong Samloem).
The Geography of Koh Rong Samloem
Koh Rong Samloem (also romanized as Kaoh Rong Sanloem) is located in the Gulf of Thailand, about 25km (16mi) off the coast of Sihanoukville and 4km (2mi) south of Koh Rong Island (a short 20 minute ferry trip away – see video map).
Koh Rong Samloem is roughly 9km long (north to south), 4km wide (east to west), and 1km wide at its narrowest point. The terrain on Koh Rong Samloem is mainly hilly, with a few medium-sized mountains and a maximum height of 210m (689ft) in the north-west.
Most of the island's interior is covered in jungle forestry, with the coastline being characterised by sandstone rock formations and several beautiful beaches (there are three yellow sand beaches on the island's western coast, 2 of which have been developed to accommodate tourism – Lazy Beach and Sunset Beach. Read our Ultimate Koh Rong Beach Guide to learn more)). The eastern side of Koh Rong Samloem is characterised by bays and headlands. This side faces towards the mainland and is less affected by weather conditions and the monsoon. Take a look at this video for some beautiful scenes of Koh Rong Samloem's landscape:
A fantastic feature of the island is the 3km crescent shaped Saracen Bay Beach. The beautiful bay got its name from a British survey brig, HMS Saracen, that charted the area in the late 19th century. This is now the main tourist area on the island (see above).
To the north of Koh Rong Samloem is the uninhabited island 'Koh Koun', followed by its stunning sister island Koh Rong.
History of 'Koh Rong Samloem'
Inconsistencies on whether 'Samloem' or 'Sanloem' is the correct spelling date back to the 19th Century. Early divergence came from the map makers during French rule.
The word "Sanloem" translates to: 1) Drowsiness; 2) Far out and hard to discern. There is some uncertainty over the history of the word 'Rong' – Some islanders say that it refers to a historical person's name, while others think it might refer to an old term for 'cave' or 'tunnel', or to the phrase 'shelter island'.
Marine Protection on Koh Rong Samloem
Cambodia has finally launched it's very first large-scale marine protection project – Several areas (totalling about 405km²) around the Koh Rong islands are now 'Marine Fisheries Management Areas'.
FAQs
A: We recommend that you bring plenty of cash, mosquito spray, sun tan lotion, and any other necessities. Saracen Bay and M'Pai Bay have small shops where you can buy most of what you might need, but prices can be inflated so it's a good idea to stock up on the essentials before you go.