Saracen Bay on Koh Rong Samloem Island
Saracen Bay is the main tourist beach on Koh Rong Samloem. Unlike the main tourist area on Koh Rong (Koh Touch), Saracen Bay is a peaceful relaxing destination with very little night life (there are jungle parties but they are away from the majority of the resorts).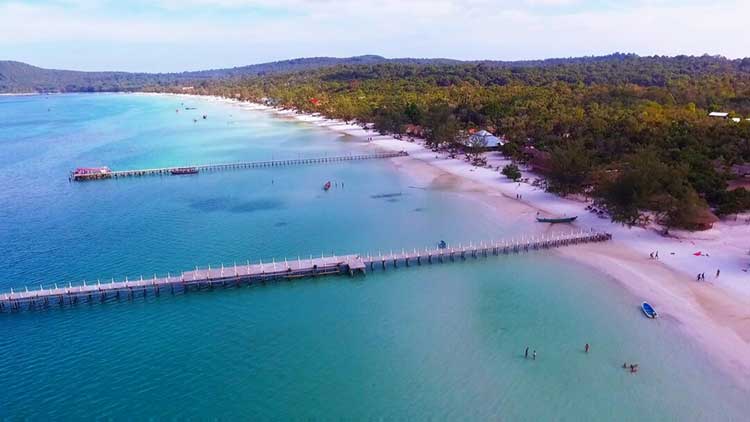 Aerial View of Saracen Bay
Easily accessible by all the main ferry services, Saracen Bay is one of the most convenient places to get to on Koh Rong Samloem. It is also one of the most 'civilised', with a couple of small shops and other services.
The views on Saracen Bay are fantastic – Pristine white beaches, clear turquoise ocean waters, and a tropical jungle wilderness surrounding the expansive beach front. Take a look at this video for a better idea:
There are several resort (over 25) built along the beach front, and a couple of resorts are built deeper into the jungle. Each resort comes with villas or bungalows, a bar, and a restaurant. The quality of the resorts varies from cheap dorm beds to modern villas with air-conditioning, wide-screen TV's, comfortable beds, and en-suite bathrooms with a hot shower and a western toilet.
Though the resorts tend to be full in peak season, it is never too busy, so you can lie back and enjoy the sensational views in a quiet tranquil environment.
Explore Samloem Hotels
Attractions & Activities on Saracen Bay
For more in-depth information, please read: 5 Best Things to See and Do on Saracen Bay. P.S. You can book some of these activities online now and save up to 15%:
1) Swim in The Waterfall
Firstly, there is the fantastic waterfall at the far side of the bay – Near a main pier and Freedom Island resort. The jungle surrounding the waterfall is beautiful, and the pool at the bottom is superb on a nice hot day – There is a bar and a restaurant, and you can sit back in the refreshing waters with a nice cold drink. If you decide to grab a bite to eat, the Khmer food at the restaurant is pretty good. Please note: the waterfall tends to dry up in the middle of peak season.
2) Visit Lazy Beach
As a separate day trip, we would definitely recommend for you to see Lazy Beach – A 40 minute walk through the jungle trail.
Voted as one of the 'Top 21 Beaches in the World' by The National Geographic, the views on this side of Koh Rong Samloem are truly mesmerising, and if you spend one night at the resort there, you can see the breathtaking sunset.
The restaurant (and bar area) at Lazy Beach Resort is ideal for lounging, and the beach is in pristine condition, so you have plenty to do (or not to do) when you get there. Take a look at this article for more details.
3) Snorkel and Scuba Dive
For those who want to take full advantage of the wonderful marine life, there is snorkelling and scuba diving available.
The snorkelling / scuba diving centre is located near the centre of Saracen Bay (near Orchid Resort) and is quite easy to find – Just take a stroll along the beach and look out for it. Scuba diving is an absolutely amazing experience around Koh Rong Samloem – The best place is around Sunset Beach, on the western side of Koh Rong Samloem (see also: Snorkelling on Lazy Beach).
4) Take an Island Tour
More recently, a very popular boat tour around the island has become available. Organised by Captain Kem, 'Caribbean Tours' takes you all over Koh Rong Samloem, allowing you to see many of the other attractions, beaches, and resorts.
This is a fun thing to do if you can find the time, and what's great about this tour is that you can stop off at any point you like along the way, including the best areas for snorkelling and fishing. Don't be expecting any advanced fishing equipment though – The local Khmer use a small plastic bottle and fishing wire. Even if you don't happen to catch a feast (the trick seems to be in how far down you let the hook go), being out in the waters on a small boat is fantastic, especially when the sun starts coming down.
Captain Kem also currently offers a night time trip to see the bioluminescent plankton – Try to book the tour in advance during the day though (there are several booking points across the bay or just ask at your resort).
5) Visit The Lighthouse
At the opposite end of Saracen Bay to the waterfall, near Paradise Villas and Dolphin Bay Resort, you'll find the entrance to the long walk to see the light house. Although the views from the top are splendid, it's a bit too far to go, so maybe don't make the journey unless you have a spare day on your hands and you've already seen Lazy Beach.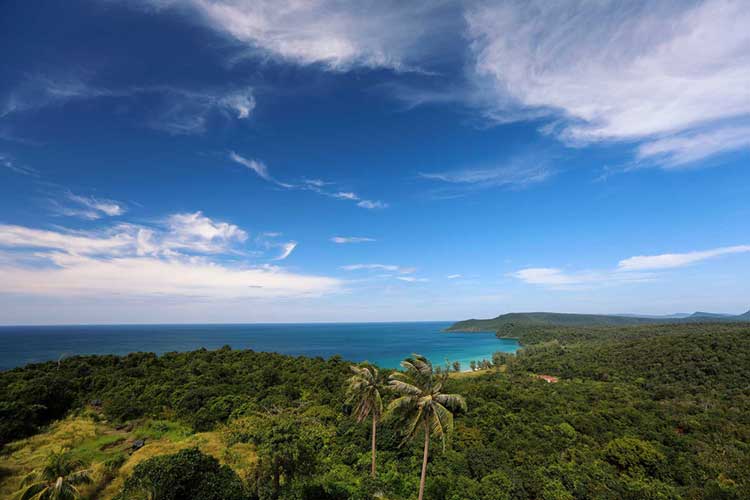 Staying on Saracen Bay – Tips & Advice
Shops: There are a couple of small shops on Saracen Bay, but prices tend to be inflated, so try to bring whatever you need with you (don't forget to bring plenty of mosquito spray and suntan lotion).
ATMs: Saracen Bay does not have any ATMs at the moment, so please bring sufficient cash with you. Several resorts allow you to pay by credit card, but it's still a good idea to have cash just in case.  If you desperately need some cash for whatever reason, it is possible to do a WING transfer carried out over a mobile phone. The WING centre can be found on Saracen Bay, in a small Khmer resort near The One Resort – Head left for 2 minutes or so (if you are facing The One).
Food: If you're staying on Saracen Bay, Green Blue and Natural Resort probably have the best local Khmer food, whereas Moonlight serves the best pizza. Sol Beach Resort has several fantastic wines and the Fish Amok is outstanding. Sweet Dreams Resort is a great place for breakfast – The views are superb and their pancakes are delicious. The One Resort offers great night time views and has a good range of cocktails. For more information, read: 5 Best Food & Drink on Saracen Bay.

The Delicious Fish Amok at Sol Beach Resort
Money: Changing large notes can sometimes be problematic on the islands, so please try to bring smaller denominations.
Wi-Fi: Many of the resorts now have Wi-Fi on Saracen Bay, though connections can be slow and unreliable.

Prices: On average, Koh Rong Samloem is more expensive than Koh Rong, in both hotel and restaurant prices. There is a wide range of options on both islands however. On Samloem, the most basic accommodation starts at $10 / night, and goes up to $150 / night (for a spacious villa with air-con, Wi-Fi, modern bathrooms, etc.). Food prices average around $7 / main meal.
FAQs
Q: When is the best time to visit Saracen Bay?
A: The best time to visit Saracen Bay is between the middle of November and the start of May. During these months you'll have beautiful hot days with very little cloud and low humidity. To give you a rough idea of the average temperatures over this past year:
Middle of November / December / January / February: Warm and dry. 25°C daytime.
March / April / May: Hot and dry. 35°C daytime.
June / July / August: Hot and wet. 35°C daytime.
September / October / Early November: Warm and wet. 25°C daytime.
Please see our Weather Guide for more information.
Q: How do I get to Saracen Bay?
A: There are now 5 modern ferry services from Sihanoukville to Saracen Bay – Speed Ferry Cambodia, Island Speed Boat Cambodia, Buva Sea, Angkor Speed Ferry, and GTVC. (There are also a couple of $5-$10 'Slow Boat' services that take 1.5 – 2.5 hours – These services are not professionally run and are not recommended).
It will take about 40 minutes to get to Saracen Bay if it's the first stop. If the boat first stops elsewhere, it may take 1 hour or so.
All 5 services will charge roughly $25 return, though prices can vary depending on time of year, special offers, etc. All services leave from the Ochheuteal (AKA 'Serendipity') pier in Sihanoukville.
The 5 services offer modern speed boats with comfortable chairs, life jackets, and the option to buy food and drink on board. Not all of the ferries have air-conditioning, but once the boats set off there is a strong cool breeze throughout the sitting areas which more than makes up for it.
All ferry services tend to be very busy – we strongly recommend you buy your tickets in advance. You can buy your tickets online now here: Book Ferry Tickets Online Now
Q: What activities are there?
A: Snorkeling & Scuba Diving
The Koh Rong islands are known for their stunning underwater panorama. Whether it's snorkeling or scuba diving that you're after, there are plenty of superb locations on Koh Rong Samloem.
Kayaking & Paddle Boarding
Enjoy the crystal clear ocean waters by Kayaking or paddle boarding your way around – An ideal activity for couples and families alike.
Jungle Trekking
Explore the exotic jungle habitat by foot. If you're staying on Saracen Bay, we would definitely recommend for you to see Lazy Beach – A 40 minute walk through the jungle trail.
Bioluminescent Plankton
Sparkling like a starry sky all around you, the bioluminescent plankton are a wonderful sight to behold at night times. Please speak to your hotel about booking a plankton tour.
Q: Where can I see the glowing plankton?
A: Sparkling like a starry sky all around you, the bioluminescent plankton are a wonderful sight to behold at night times. Although this phenomenon is abundant on the islands, the glowing plankton can only be seen in places with very little light pollution.
If you're staying on Saracen Bay, the easiest way for you to see the plankton is by booking a boat tour.
For more information, please read: Glowing Plankton on Koh Rong
Q: What should I bring with me?
A: We recommend that you bring plenty of cash, mosquito spray, sun tan lotion, and any other necessities. Saracen Bay and M'Pai Bay have small shops where you can buy most of what you might need, but prices can be inflated so it's a good idea to stock up on the essentials before you go.
Q: Is it easy to get a Cambodian Visa?
A: Yes – it is generally very easy to get a Cambodian Visa. Although there are tighter restrictions for Business Visas (which now require a Cambodian work permit), the Tourist Visa (1 month stay) is very straight forward and can be obtained at the airport / border crossing as you arrive. If you'd like to skip the ques, you can buy your visa online now here: Buy a Visa Online Now.
Q: Is there an ATM on Saracen Bay?
A: There is currently no ATM on Saracen Bay. However, many resorts now take card (e.g. VISA, MasterCard, etc) and you can take money out using an Eftpos terminal (10% fee). It is also possible to do a WING transfer if you are desperate for cash. Please ask someone when you are there for details.
You can get cash out at any of the three Eftpos terminals on Koh Touch (the main tourist area on Koh Rong Island). There is an Eftpos terminal at Green Ocean Guesthouse, White Rose Guesthouse, and Koh Lanta.
Q: Is there a medical facility?
A: There is currently no medical facility on Saracen Bay. However, Koh Rong has a medical facility on Koh Touch (the main tourist area). Please ask someone when you are there for directions.
Q: Is it a family-friendly place?
A: Yes, there are many quiet, family-friendly places on Saracen Bay. Please see our Hotel Guide and Beach Guide to learn more.
Q: When is the rainy season?
A: The rainy season on Saracen Bay is from the middle of May to early November. During these months there will be short bursts of heavy rain during the day. One thing to note is that, although it is wonderfully hot throughout the peak season, there are several advantages of visiting the island during the rainy season.
For example, those that visit during the rainy season get to enjoy half-priced accommodation and beautiful rainy scenes, and because it never gets too cold in Cambodia, swimming in the ocean is still a very pleasurable experience (the water rarely drops beneath 25°C). Take a look at this article for more information: 5 Reasons to Visit Saracen Bay in Rainy Season