Over the past year or so there have been some major changes in how to get from Siem Reap to Battambang (and from Battambang to Siem Reap). From fantastic new bus companies to the very best taxi services, it has never been easier to get from one city to the other. Here's all the latest information on buses and taxis between Siem Reap and Battambang.
P.S. You can book your tickets online now and save up to 30%:
Taxis From Siem Reap to Battambang
If you're looking for a bit of comfort during your trip, then a private taxi is your best option. The journey will take approximately 3 hours in total and there is some absolutely stunning scenery along the way. Watch this video to see some of the beautiful Cambodian country side you'll pass during your taxi drive:
On average a private taxi from Siem Reap to Battambang will cost in the region of $55 (that's usually the quote from Siem Reap airport to Battambang). You'll have the option of stopping for toilet breaks, coffees, and even sightseeing if you wish.
The better services offer nice comfortable cars (e.g. a Lexus 4 x 4) and the drivers will pick you up from your hotel, the airport, or any other location convenient for you.
One thing that we recommend however is to book your taxi in advance. Not only is it cheaper, but Cambodian traffic is very hectic, so the taxi rides can be daunting and frightening if you don't know your driver – please contact us to book a safe, reliable taxi driver from anywhere in Cambodia, or click below and book online now.
30% OFF Taxis – Book Now
Buses From Siem Reap to Battambang
There are many bus companies offering economy and VIP buses between Battambang and Siem Reap. Although companies such as Giant Ibis and Mekong Express used to be the only services a few years ago, there are now several fantastic options including Cambodia Post VIP.

Mekong Express Bus from Siem Reap to Battambang
These bus companies are much better than the typical Cambodian bus services – they are less crowded, make less stops, and drive more carefully.
In general, an economy bus is about $4 on average and sits roughly 50 people. VIP buses are smaller and more comfortable, sitting around 15 people. They are a bit more expensive at $6-8 one way.
VIP buses tend to be quicker (3 hours) than economy buses (4 hours), and the journeys are more convenient (e.g. you can ask the driver to stop if you desperately need to go to the toilet). Both types will stop along the way for short toilet and snack breaks, and with most services you will have to change along the way.
Although you will see Wi-Fi advertised, if you do actually have a connection it will be very slow and unreliable.
30% OFF Buses – Book Now
To give you an idea of bus times, here are the timetables for some of the most popular and best reviewed services (Mekong Express, Giant Ibis, and Cambodia Post VIP).
Mekong Express Timetable
Siem Reap to Battambang: 8am and 2pm.
Battambang to Siem Reap: 8am and 2pm.
Giant Ibis Timetable
Siem Reap to Battambang: 9.45pm and 11pm.
Battambang to Siem Reap: 11pm and 11.30pm.
Cambodia Post VIP
Siem Reap to Battambang: 1.30pm.
Battambang to Siem Reap: 7.45am.
30% OFF Buses – Book Now
How to Get From Siem Reap Airport to Siem Reap Centre
Getting from Siem Reap Airport to the city centre is pretty straight forward – there's no line-jumping, and all of the prices are set (the drivers are under strict instructions to not undercut each other). This means that once you find your taxi, moto, or Tuk Tuk, you're all set to go.
The taxi rank is immediately in front of you as you exit the arrivals building. On average, it'll cost you about $10 to Siem Reap city centre. If you need a bigger taxi (for 6+ people), it will cost a little more.
If you prefer to book your taxi in advance, you can do so here:
Book Your Taxi Now
Although you can also book a Tuk Tuk at the taxi rank, it's best to walk a little further and exit the airport – here you'll find the cheapest Tuk Tuk's (and motos) which will charge roughly $6 to the city centre (a moto will cost $2).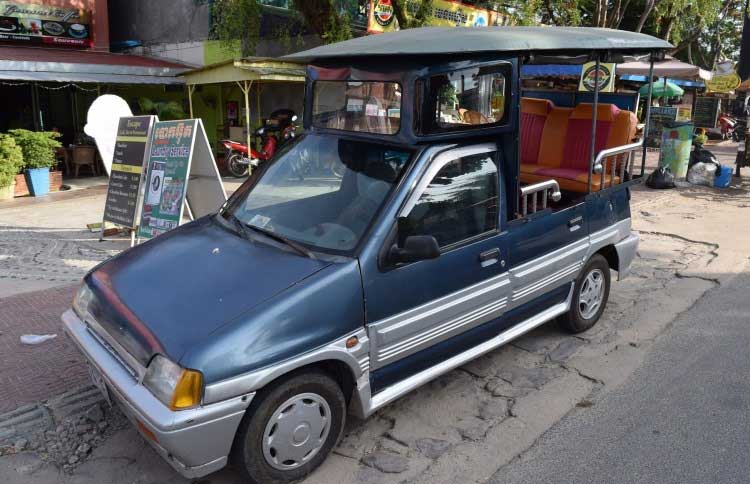 A Typical Tuk Tuk from Siem Reap Airport to Siem Reap City Centre
A typical Tuk Tuk can take up to 4 people but doesn't have as much room for luggage – if you have a lot of bags you'll struggle to get more than 2 people in the back.
Siem Reap Tuk Tuk drivers are well-known for dropping you off at your hotel and then offering very cheap temple-tours, only to change the prices half way. If you're considering to take a temple tour, it's best to book one through your hotel.