Embark on a remarkable journey from the coastal haven of Sihanoukville to the bustling energy of Phnom Penh. Recent improvements in transportation have made this route more accessible and varied than ever, featuring modern bus services, luxurious taxis, scenic trains, and streamlined flights. This guide provides you with the latest updates on each mode of transport, ensuring a comfortable and enjoyable trip. Remember to book online now for great savings:
Taxis: Scenic Comfort on the Road
Choose a private taxi for a relaxed and scenic 4-hour journey to Phnom Penh. Typical fares from Sihanoukville are around $60, offering a blend of comfort and picturesque views – watch this video to see some of the beautiful countryside you'll pass during your taxi drive:
Taxis allow for flexible stops, perfect for enjoying the Cambodian landscape, coffee breaks, or quick restroom stops. Luxurious options like Lexus 4x4s are available, and advanced bookings are recommended for the best rates and a stress-free start to your journey:
30% OFF Taxis – Book Now
Buses: From Economy to VIP Options
Traveling by bus from Sihanoukville to Phnom Penh offers both budget-friendly and VIP experiences. Renowned companies like Giant Ibis, Mekong Express, and newer services like Cambodia Post VIP and Bayon VIP provide comfortable and swift journeys.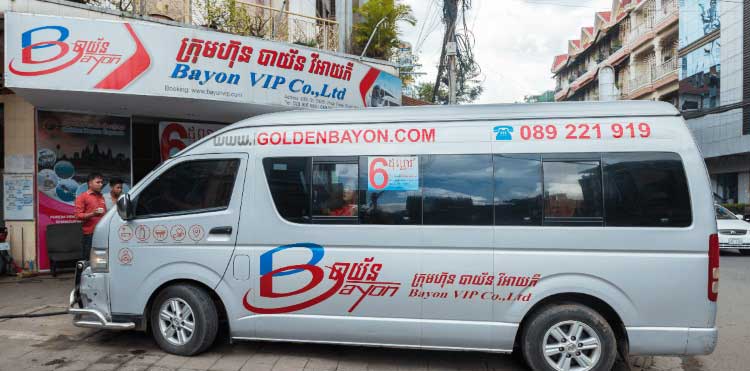 Bayon VIP bus from Sihanoukville to Phnom Penh
Economy buses, accommodating about 50 passengers, cost between $4-$6, while VIP buses, with around 15 seats, range from $8-$10 and often offer quicker travel times.
Both bus types include refreshment and rest stops, though onboard Wi-Fi might be limited in speed and availability. Secure your spot and book your bus ticket online now for a smooth trip:
30% OFF Buses – Book Now
Train: A Unique and Pleasant Experience
The Royal Railway train presents a leisurely and scenic option for traveling to Phnom Penh. The journey, taking about 6.5 hours, is a delightful way to witness Cambodia's countryside. Operating mainly on weekends and select weekdays, tickets are around $7. Enjoy comfortable carriages with AC, power sockets, and entertainment, making for an enjoyable and laid-back travel experience. Advance booking is recommended to ensure a reserved seat and a punctual departure.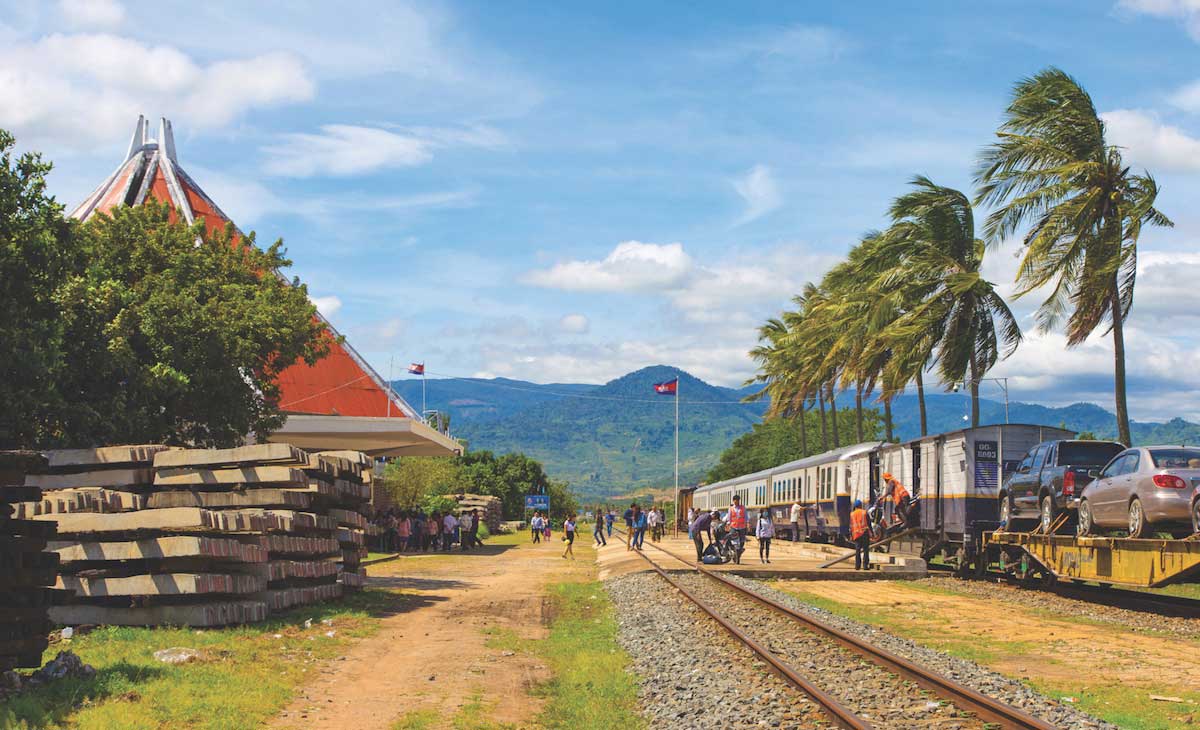 A Cambodian train between Sihanoukville and Phnom Penh
Flights: Expanding Aerial Routes
While direct flights from Sihanoukville to Phnom Penh are currently limited, the aviation landscape in the region is evolving rapidly. With the establishment of international routes from Kuala Lumpur, Ho Chi Minh City, and Macau to Sihanoukville, we are beginning to see a promising expansion in air travel options. This development hints at the potential for increased direct flights between Sihanoukville and Phnom Penh in the near future. Keep an eye out for upcoming flight deals as these changes unfold, and prepare for more convenient and quicker travel possibilities between these two iconic Cambodian cities:
Check Flight Deals
From Sihanoukville Airport to the City Center
When you arrive at Sihanoukville Airport, reaching the city center is convenient and cost-effective. Generally, a shuttle bus service is available, providing transit to the downtown area at a nominal fee of around $4. If you find that you've missed the shuttle, don't worry – Tuk Tuks present a viable alternative, with a journey costing about $20.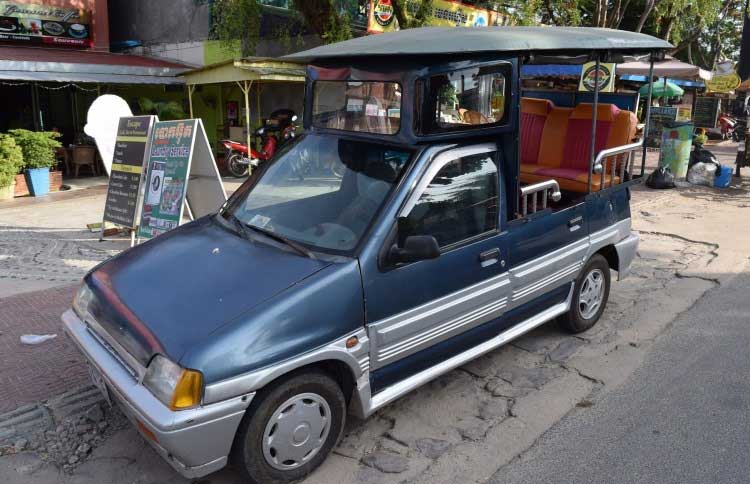 A Typical Tuk Tuk from Sihanoukville Airport to Sihanoukville city center
Additionally, for those desiring a more private and comfortable mode of transport, private taxis are readily available, with fares averaging around $30:
30% OFF Taxis – Book Now
From Phnom Penh Airport to the City Center
Transiting from Phnom Penh Airport to the city center is an efficient and hassle-free experience, thanks to a variety of available transport options. Immediately outside the airport, you'll find a neatly organized taxi rank providing reliable, regulated services. The taxi ride into the heart of the city generally takes 30 to 45 minutes, depending on the traffic, and the fares are reasonably priced between $12 to $15. Taxis are an especially practical choice for those carrying luggage or traveling in groups, offering both comfort and convenience.
For those seeking a more cost-effective mode of transportation, a host of tuk-tuks is available right at the airport's exit. Taking a tuk-tuk not only saves money, with typical fares ranging from $7 to $9, but also immerses you in the lively ambiance of Phnom Penh's streets, providing picturesque views of the city. For the tech-savvy traveler, the convenience of modernity is at your fingertips with ride-hailing services like Grab and PassApp. These apps allow for easy booking of a ride directly from your smartphone, adding another layer of ease to your journey in Phnom Penh.
Conclusion: Journey Through Cambodia's Heart
In conclusion, your journey from Sihanoukville to Phnom Penh is more than just a transfer between two cities; it's an integral part of your Cambodian adventure. Whether you choose the serene comfort of a private taxi, the communal vibe of a bus, the scenic charm of a train, or the swift convenience of a flight, each option offers a unique window into the soul of Cambodia. Embrace the diverse landscapes and rich cultural tapestry as you travel, making the journey as enriching as the destination itself. So go ahead, book your tickets online, and get ready for an unforgettable experience in the heart of Cambodia.
FAQs
Q: How do you travel from Sihanoukville to Phnom Penh?
A: If you want to travel from Sihanoukville to Phnom Penh, you can either take a bus, a private taxi, the train, or a flight. If you're looking for a bit of comfort during your trip, then a private taxi is your best option. The journey will take approximately 4 hours in total and will cost about $60.
Q: How much is a private car from Sihanoukville to Phnom Penh?
A: On average a private car from Sihanoukville to Phnom Penh will cost in the region of $60 (that's usually the quote from Sihanoukville airport to Phnom Penh city center). You'll have the option of stopping for toilet breaks, coffees, and even sightseeing if you wish.
Q: How long from Sihanoukville to Phnom Penh by bus?
A: A bus from Sihanoukville to Phnom Penh will take approximately 5 hours in total and will cost roughly $8-$10. Although companies such as Giant Ibis, Mekong Express, and PSD Xpress used to be the only recommended services a few years ago, there are now several fantastic (and even better) options including Cambodia Post VIP, Bayon VIP, and Phnom Penh Sorya (we recommend Cambodia Post VIP and Bayon VIP).
Q: How many kilometers from Sihanoukville to Phnom Penh?
A: If you go by car, the driving distance between Sihanoukville and Phnom Penh is 225.06 km.
Q: How many days should I spend in Sihanoukville?
A: If you are heading to Koh Rong, you probably don't need to spend more than one day in Sihanoukville.
Q: How many days do you need in Phnom Penh?
A: We recommend that you spend about two days in Phnom Penh – one full day for the museums, and one day / half day to take a look around riverside (in particular, the area around the Royal Palace).
Q: Is Cambodia safe?
A: Generally, Cambodia is a safe country – it is ranked the 59th safest country in the world, with violent crime being a rarity. The only exceptions are remote areas of large cities, so please be sensible with where you visit. Cambodian people are generally very respectful and friendly towards foreign men and women, but as with any poorer country, poverty is an issue. As such, we recommend that you do not wear expensive jewellery, leave your belongings unattended, or get heavily intoxicated. Otherwise, relax, explore, and enjoy yourself!
Q: How long should I stay in Cambodia?
A: The number of days that you should stay in Cambodia depends on what attractions you would like to see. On average, most people spend about three days per city. For example, three days in Siem Reap, three days in Phnom Penh, and three days on Koh Rong. In our opinion, this is probably an adequate number of days per city, though of course, the longer the better!
Q: What is the best time to go to Cambodia?
A: We would say that the best time to go to Cambodia is between the middle of November and the start of May. During these months you'll have beautiful hot days (25°C – 40°C) with very little cloud and low humidity.
Q: What should I do in Cambodia for 10 days?
A: If you want to spend 10 days in Cambodia, then we would recommend for you to:
Day 1 – Fly into Phnom Penh.
Day 2 – Visit Phnom Penh Museums.
Day 3 – Travel to Siem Reap.
Day 4 – Visit Angkor Wat.
Day 5 – Explore Siem Reap.
Day 6 – Fly to Sihanoukville.
Day 7 – Travel to Koh Rong.
Day 8 – Relax on Koh Rong.
Day 9 – Travel to Koh Rong Samloem.
Day 10 – Explore Koh Rong Samloem.
Q: What is the best currency to use in Cambodia?
A: The best currency to use in Cambodia is the US Dollar, or the local Khmer Riel – Both currencies are accepted everywhere in the country.
Q: What should you not wear in Cambodia?
A: Cambodia is a Buddhist country, and local people, especially the older generations, adhere to strict dress codes. As such, if you plan on visiting non-tourist areas, men should not wear shorts or vests, while women should not wear mini-skirts, tight yoga pants, or other revealing clothing.
If you have any other questions, feel free to contact us and we will reply ASAP.