For the first time since I have lived in Sihanoukville, I decided to spend Cambodian New Year (or Cambodian 'Happy New Year' as Khmer seem to call it) on the main tourist area of Koh Rong – Koh Touch. Although my wife wanted to stay in Sihanoukville, I convinced her that Koh Rong would be worthwhile – To me a party on a tropical island paradise sounds ideal. 🙂
Now, Khmer New Year officially starts on the 12th of April and lasts for 3 days till the 15th, but in reality celebrations last all week, starting on the 11th and carrying through till the 18th or so. If you do decide to go to Koh Rong around this time, which I would definitely advise you to try, you really need to book your accommodation and ferry tickets in advance, as all the good hotels will be fully booked, and ferry services stop selling tickets due to such high demand.
To give you an idea of Khmer celebrations, it is not uncommon for the staff to wake up at 4am and start the dancing. At the very least, by the time you get out of bed it is likely that a party will be on the go somewhere on Koh Touch.
In general, everywhere you go Khmer are smiling, throwing talcum powder all over each other, and spraying each other with water guns. Loud Khmer dance music is played regularly along the beach front, and dancing is happening in most directions you look. This is especially true around the 13th and 14th of April – The first day of New Year is usually spent at home with the family.
During our stay we mainly relaxed on the beach during the day, went fishing (which is a fantastic experience – read about it here), and had homemade BBQ's with the fish we caught.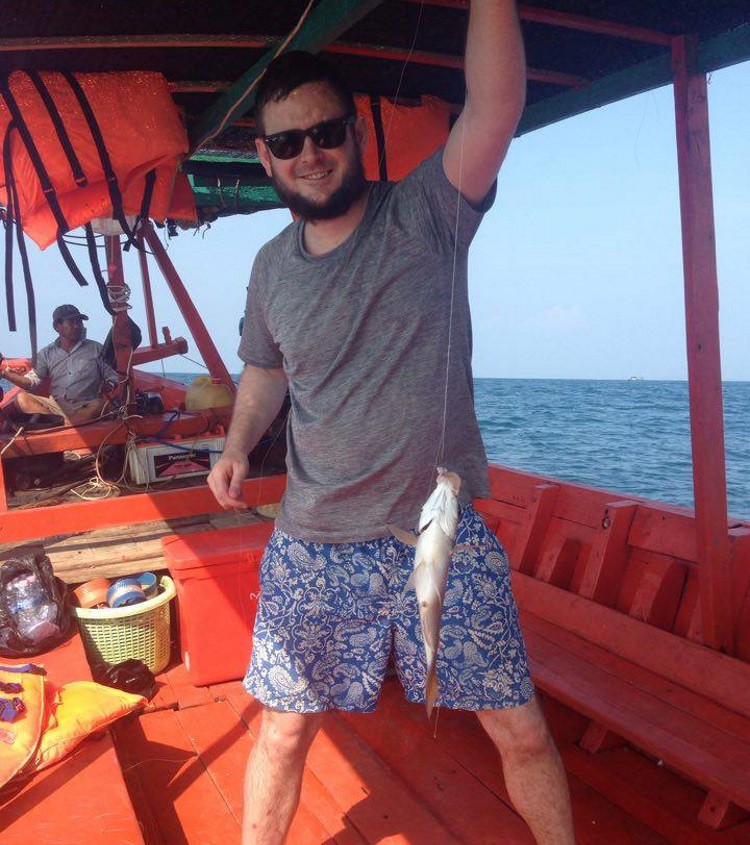 At night times things got much busier and more hectic. In particular, just to the left of the main pier is an empty clearing which got filled up with dancing locals. Very loud Khmer music was played till about 1am, and the atmosphere was fantastic – Friendly, inviting, joyous.
We were pretty much forced to dance along with the large group of happy locals, and were joined by several other 'Barongs' (meaning 'foreigners' in Khmer). All in all we had a great time, and everybody seemed to enjoy themselves every night that we were there.
After 1am, we usually walked around the main bars, most of which were playing a mix of Khmer dance music and western tracks. One night we decided to try out a beach party on Police Beach, just as a matter of interest.
Police beach is a short walk through the jungle, heading left off the main pier. The smallish beach was converted into a mini dance area with a techno vibe. Here the party continued till 6am, and although this will not be everybody's cup of tea, there really is something special about partying on a tropical island till the sun comes up!