Over the past couple of years there have been some key new developments on Koh Rong Samloem that you should know about if you're visiting this wonderful island.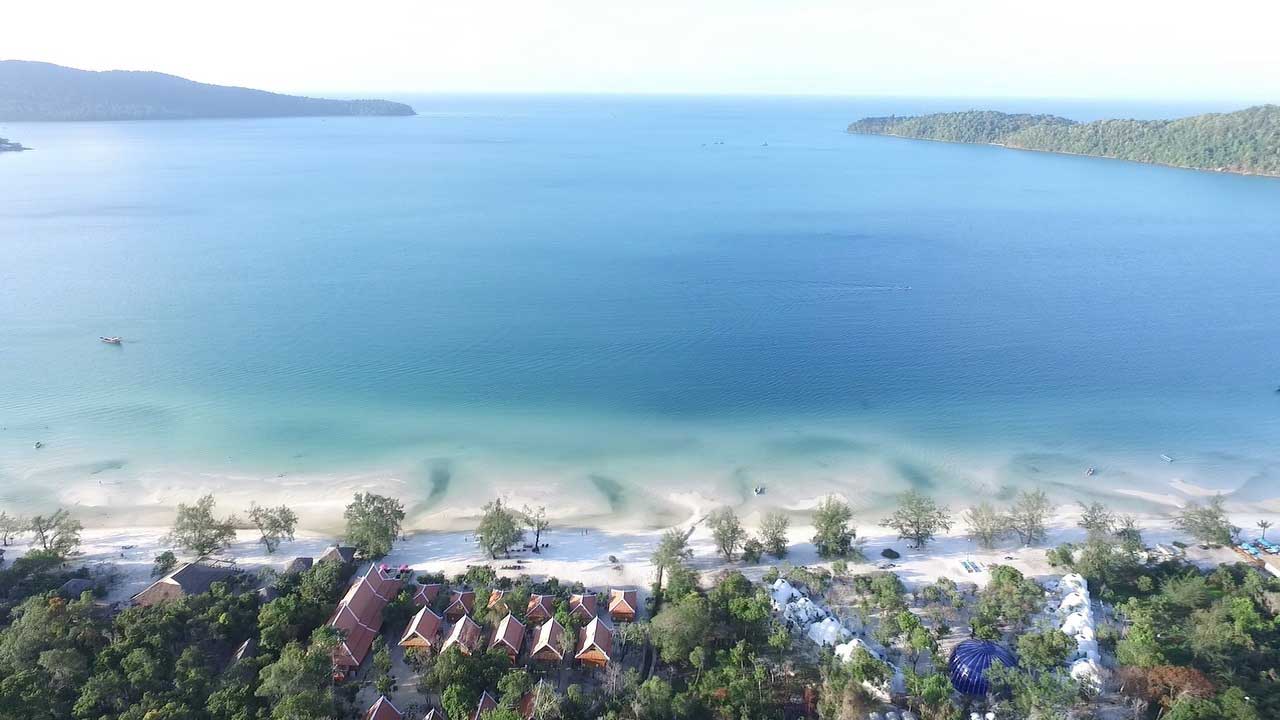 Aerial View of Saracen Bay on Koh Rong Samloem
New Shops
Perhaps the most important is that there are finally some shops on Saracen Bay (the main tourist area on Samloem). The shops are quite small but do sell things like mosquito spray, sun tan lotion, snacks, alcohol, and cigarettes. The prices are inflated compared to Sihanoukville, but it is nice to have the option of buying a few things if you happen to run out or forget to bring something with you. It is even possible to have a haircut and get your nails done at the small beauty salon to the side!
My only issue with the shops is that they look quite vulgar and don't really fit in with the beauty of the island – They are large metal structures that stand out like a sore thumb! But still, it is something that's been missing on Samloem for a while now and a lot of people will appreciate them I'm sure. In particular, the local Khmer staff finally have a place to buy what they need, or just to relax and unwind in their spare time without paying a premium for beer.
New Resorts
The next large development on Koh Rong Samloem is the opening of 3 new resorts on Saracen Bay. Pretty much the whole of the beach is now occupied, but as The Pipes Resort demonstrated, you can do a lot with even the smallest bit of land.
This iconic resort reminds me a little of Moonlight, in that the structure of the accommodation (in this case pipe-looking) definitely strikes you as you pass them along the beach. Similarly to Moonlight, I was a little apprehensive of The Pipes Resort at first, but a lot of people seem to like it there – I presume because the rooms themselves are quite nice and modern.
The second new resort is Lime Beach Bungalows next to Sol Beach Resort. This used to be rather warn down a couple of years ago, but it has now been rebranded and refurbished, and is much improved as a result. The restaurant, in particular, is now of a good standard.
The other new resort is Beach Park – A more rustic Khmer-style accommodation next to The Royal Retreat. Beach Park seems to have copied The Royal Retreat's approach somewhat – In particular, their bars are almost identical!
New Tours
The final major development on Samloem is that there is now a (very popular) boat tour around the island. Available to book at several locations, the tour takes you to various sights and offers you the opportunity to snorkel and fish. Personally, I love island tours – Read my review of a tour of Koh Rong here.